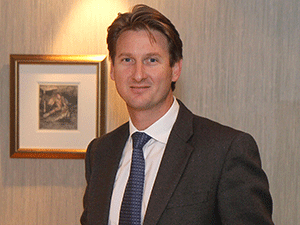 ROYAL Bafokeng Platinum (RBPlat) defended its decision to raise R1bn through a rights issue today arguing that it was necessary to lock-in finance whilst there was a window of opportunity, and in order to lay the ground work for the resumption of dividend payments.
"You have to take advantage of the windows when they arrive," said Hanré Rossouw, CFO of RBPlat in an interview with Miningmx. "We could fund Styldrift from cash flow, but then you need no hiccoughs over wage negotiations, national elections and China falling over," he said.
South Africa goes into national elections on May 8 whilst wage negotiations for a host of platinum companies are due to kick off mid-year. There are also concerns about China's economic growth prospects this year amid tensions with the US.
RBPlat is to invest R1.2bn taking its Styldrift project to about 230,000 tonnes a month in metal-bearing ore from the current phase 1 milestone of 150,000 tonnes per month achieved in the second half of the 2018 financial year. The increase in tonnage from Styldrift will contribute the lion share of RBPlat's increased platinum group metal (PGM) production which it guided to as much as 480,000 ounces this year. Production of 4E PGMs in 2018 was 368,000 oz.
Analysts were critical of the timing of the rights issue, saying RBPlat could have bided its time, but Rossouw said it was important to lock in Styldrift's expansion in order to capitalise on the improved rand basket price of PGMs, largely informed by strong pricing on palladium and rhodium, roughly 40% and 100% higher since the beginning of 2018.
"This time next year, we will find that Styldrift is generating strong cash flows. It is 15% more cost effective than BPRM [Bafokeng Rasimone Platinum Mine] and so at current pricing it will be spectacular," said Rossouw. "My own view would be that we can go to the market next year and announce a dividend policy."
RBPlat shares lost about 4.5% of their value at the close of trade on the Johannesburg Stock Exchange. In terms of the rights issue – which is supported by nearly three-quarters of RBPlat shareholders – some 46.8 million shares would be issued at a subscription price of R22/share, a 33.3% discount to RBPlat's share price on March 4.
In addition to ramping up Styldrift to its nameplate capacity, RBPlat is also weighing chrome production from the concentrator at Maseve, the processing facility RBPlat bought from Toronto-listed Platinum Group Metals for $58m last year. Rossouw said mid-stream production of chrome was part and parcel of changing the perception of RBPlat that it was only a Merensky producer of PGMs.
Merensky is generally rich in platinum whereas UG2 resources, which are deeper with lower grades of PGMs, have the advantage of a higher percentage of sister metals such as palladium and rhodium. For instance, about 11% of UG2 ore consisted of rhodium compared to 4% in Merensky type ore. Rossouw said the company had equal access to both types of orebody at its properties.
The improvement in palladium and rhodium pricing means RBPlat is able to keep the previously problematic South Shaft at BRPM open for longer saving contractor jobs as it sought 20,000 tonnes/month of PGM production. BRPM's South Shaft was due to close in 2020.
WAGE DEAL
One of the considerations behind RBPlat deciding to raise capital now is the potential disruption posed by wage negotiations later in the year. RBPlat traditionally has a strong relationship with the National Union of Mineworkers (NUM) which is its main union. However, the five-year wage deal is due to expire in July.
Rossouw said that given the increased tensions in the PGM sector this year owing to calls for a secondary strike by the Association of Mineworkers & Construction Union (AMCU), in support of its strike at the gold mines of Sibanye-Stillwater, it might be prudent to wait for other platinum wage talks to be settled first.
RBPlat normally negotiates separately to the likes of Anglo American Platinum and Impala Platinum. This year, however, the three-year wage deals of the latter coincide with RBPlat's wage talks. "I would like to go for a long-dated wage agreement again this year, but we are in no hurry to negotiate. We might delay our talks in order to see where the others settle," said Rossouw.