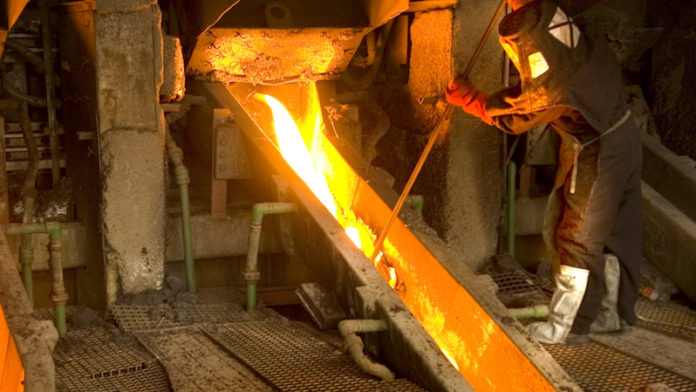 AUTOMAKERS attending the 121 Mining Conference in Cape Town during February were unanimous in their view that switching from palladium to platinum in the manufacture of autocatalysts was not on the agenda for the foreseeable future.
It's a view shared by Anglo American Platinum CEO, Chris Griffith, though with an important disclaimer. Speaking at Anglo American's full-year results presentation on February 21, he said there "… had to be some substitution from palladium back into platinum," adding however: "We don't think that happens anytime soon".
"We still think it's two years out. And the reason for that is because the carmakers at the moment are trying to deal with real world driving issuesm" he said in reference to efficiency and emissions testing required by carmakers today in which vehicles are taken out of the laboratory in order to meet standards.
Trevor Raymond, director of research at the World Investment Platinum Council (WPIC), said switching into platinum autocatalysis might occur sooner rather than later, however. "There is nothing published to suggest this is happening, and the information of the automakers is proprietary so they are not going to say anything.
"All I'm saying is that the palladium market has been in sustained backwardation for 12 months now (in which the spot price of the metal is higher than its futures price). There have been eight consecutive supply deficits. Palladium sponge and ingot are in short supply.
"There's no evidence but if you go back to 2000 (where similar conditions existed) what happened in the next three years was that one million ounces of platinum went back into gasoline (autocatalysis) cars.
"It has happened before and it will happen again."
Anglo American CEO, Mark Cutifani, was concerned about the prospect of high prices for palladium. "We're a bit nervous when it goes too far because what you don't want is switching either," he said.
But the evidence suggests that although switching between palladium and platinum is an inevitability – in the view of both Raymond and Griffiths – it doesn't seem to imply a sharp correction in the palladium price.
About 90% of palladium production is derived from nickel or platinum production and there's not much evidence of nickel supply growth. From a demand perspective, tighter emission standards to be adopted in China – so-called China VI – is likely to promote the use of palladium and rhodium gasoline autocatalysis. In fact, an extra gram per vehicle as required by legislation equals 700,000 to an extra million oz of palladium that's going to be needed.
Said Griffith: "Is there about to be a crash? We don't think there's any likelihood soon that you see a palladium crash. I think it much more likely that palladium runs hard and it drags rhodium with it. Rhodium is cheap at these prices".
According to Raymond, there doesn't need to be significant substitution out of palladium into platinum in order to disturb the recent price history of platinum as a mere 5% of substitution could lead to a 14% bump in platinum demand.
SO WHAT OF PLATINUM?
According to the WPIC's latest fourth quarter platinum report, which also adjusts the outlook for 2019, the supply surplus in platinum is likely to widen in the year to about 680,000 oz from previous estimates of 455,000 oz.
This is owing to a 5% lift in supply growth which slightly exceeds demand growth – a factor Raymond sees as a one-off event related to unlock of inventory from South African mining firms.
The WPIC makes the case for optimism for platinum. It raises a flag over potential disruptions in South Africa as power outages and industrial action related to wage disputes. In addition, recovering Western Europe diesel market share which has risen from 33.4% in September last year to 35.2% in January could increase auto demand.