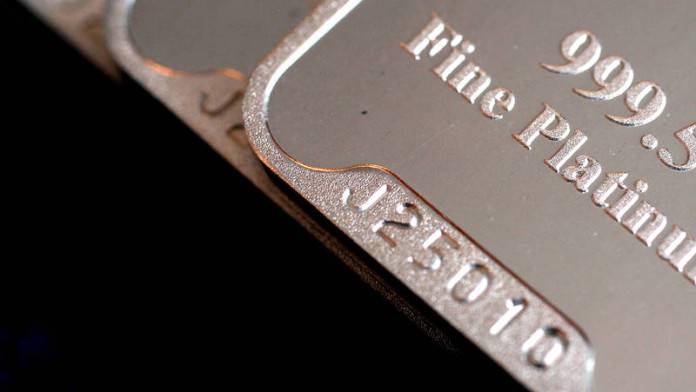 A 'DRAMATIC' improvement in investor sentiment may herald better times for platinum, according to Johnson Matthey (JM), which said in its 2019 outlook that exchange traded fund (EFT) buying soared in the first quarter to 700,000 ounces.
The marketer and semi-fabricator's principal analyst, Alison Cowley, said the view of investors was that platinum was underpriced having traded at 10-year lows from mid 2018 to early 2019. Platinum is currently trading at $860/oz, down from $900/oz a year ago.
"Some investors now think that platinum is under-priced, given the improving outlook for automotive demand and uncertainties over supply," said Cowley in JM's outlook. "This led to a dramatic turnaround in sentiment during the first quarter of 2019, when investors bought nearly 700,000 oz of platinum ETFs. This seems to be net new investment, rather than investors switching out of palladium into platinum," she said.
The upshot is that the platinum market will be pushed into deficit amid a slight increase in supply, possibly affected by lower than expected supply from South Africa owing to strike-related disruptions and electricity supply interruptions.
Commenting in its first quarter report, the World Platinum Investment Council (WPIC) took a similar view regarding investment demand for platinum which it said would grow 8% this year. Supply would increase 4%.
It added that the market have have finally taken cognisance of a shift in platinum fundamentals ahead of Platinum Week this week. Paul Wilson, CEO of the WPIC commented that "… platinum demand growth potential is finally outweighing long standing negative sentiment".
"The market may have previously underestimated the significant positive impact on platinum demand likely as more platinum is used in emissions control in gasoline cars and the prospect of more clean new diesels on the road," he said. The WPIC consequently adjusted its previously estimated platinum surplus for 2019 to 375,000 from 680,000 oz.
Both research houses agreed attempts to arrest and stimulate demand for platinum jewellery in China had so far failed. Platinum jewellery faced increased competition from karat gold jewellery, said JM.
In respect of palladium, JM said that selling by investors driven by profit-taking had largely helped balance the market last year and whilst pockets of selling may yet continue this year, the market deficit could widen further on sustained demand for palladium in autocatalysis.
The palladium market deficit is forecast to widen significantly in 2019, with primary and secondary supplies unable to keep pace with the growth in automotive demand. Palladium ETF disinvestment helped balance the market in 2018 but remaining holdings are no longer sufficient to bridge the gap between supply and demand, said JM.
Palladium use in autocatalysts is forecast to rise by 9% in 2019. China 6 emissions legislation will be enforced nationally in 2020, but some provinces and cities will introduce the new standards in July this year, under the 'Blue Sky Protection Plan.' This will result in a step change in palladium loadings on Chinese cars.
"Euro 6d legislation is having a significant impact on the palladium market. Vehicles are being tested under a wider range of driving conditions, making emissions control more challenging," said Margery Ryan, Principal Automotive Analyst at JM.
"Exhaust after-treatment systems are becoming more complex and automakers are adding more palladium to meet the new requirements," she said.