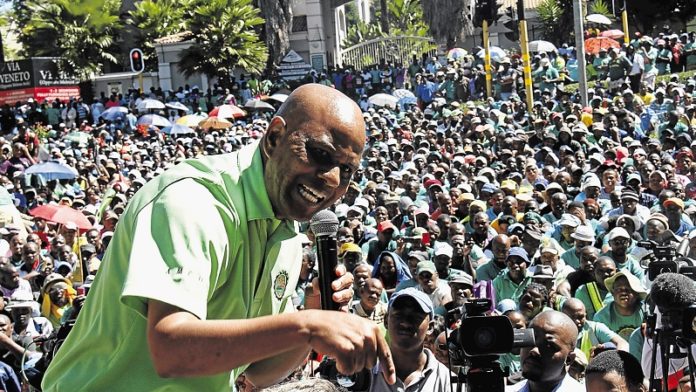 THE Association of Mineworkers and Construction Union (AMCU) seems to have reached a plateau after its five-month strike in Sibanye-Stillwater's gold mines effectively accomplished nothing beyond the impoverishment of its members. This winter's platinum wage talks will show if it remains a force to be reckoned with or one that is about to hit a dead end.
It must be said that AMCU's rise on the platinum belt was nothing short of spectacular. Tapping into a swelling vein of discontent with the National Union of Mineworkers (NUM), which at the time was seen by some rank and file members as too close to the bosses and the ruling ANC, it took the Rustenburg mines by storm.
The Marikana massacre, which saw 34 men shot dead by police during a violent wildcat strike at Lonmin's Marikana mine, was the most famous, or infamous, incident in its rise.
But AMCU did not stop there. Able to portray itself plausibly as a victim of state-sanctioned violence, it then swept into parts of the gold sector, unleashing a fresh wave of unrest. Critics have long maintained that AMCU uses violence and intimidation to expand its ranks and keep its members in order – allegations it has always denied. But there is no denying the violence that has often accompanied its strikes, be they protected or wildcat.
In 2014, the union seemed at its zenith under its charismatic leader Joseph Mathunjwa. It carried out a five-month strike against what at the time were the three big platinum producers – Anglo American Platinum (Amplats), Impala Platinum (Implats), and Lonmin.
But even that strike highlighted the limits of the union's influence. The platinum price, for one thing, did not rocket, and two of the three companies have survived until now. And after such a prolonged strike, when its members fell into debt and battled to feed their families, it seemed the appetite for downing tools for extended periods of time was spent.
The world has changed a lot since then, and AMCU's gold strike did not achieve anything: its members were forced to take the same deal that other unions had signed five months before. So the platinum wage talks will be crucial for AMCU, which did not respond to requests for an interview.
GOLD FLOP IRRELEVANT
Platinum, which does not bargain collectively as an industry, but on a company-by-company basis, has been its beachhead, not least because its recruiters could go from mine to mine and promise a better deal for workers. Some experts maintain that in platinum, despite its dismal gold strike, AMCU is not vulnerable.
"In the gold sector it has never been strong and cohesive because of a number of factors tied to history and the context of the sector," Crispen Chinguno, a senior lecturer at Sol Plaatje University, who has studied AMCU extensively, told Miningmx.
"On the other hand, it has been very strong and cohesive in platinum because of differences in the context and the history of the sector," he said. "As a result, I argue that the impact of the flopped five-month Sibanye strike will be very minimal on AMCU and does not in any way leave it vulnerable especially in platinum which is its stronghold."
Still, Chinguno notes that AMCU faces many of the issues that have hit other mining unions, including legally-sanctioned lay-offs in an industry under strain that are reducing the mine workforce in general.
According to the Minerals Council South Africa, the number of workers employed in the platinum mines fell from close to 200,000 in 2012 to under 170,000 last year.
"AMCU has failed to innovate a strategy that makes it relevant to these precarious workers. So it's competing with other unions for a small pool of workers in secure jobs which is constantly dissipating," said Chinguno. It must be said that labour and social unrest are among the factors behind this decline in numbers.
AMCU is at the crossroads and was riding the Marikana wave until now. They now need to reposition themselves as a mainstream trade union
AMCU also faces a very different set of actors in 2019 than it confronted in 2014. For one thing, Lonmin has vanished from the scene, swallowed by Sibanye-Stillwater, which has shown it is willing to stare down AMCU over the course of a long strike.
And the companies are generally making money, in it part because of a smaller workforce and strategic pivots to mechanisation. Amplats has seen its earnings basically double each of the past two years and it is paying its investors solid dividends again. That may make AMCU, and other unions such as NUM, demand eye-watering wage hikes.
But the companies are probably in a position to grant above-inflation increases, because they have solid balance sheets, are generating cash, have benefited from rising prices and a soft rand, and last but not least, on account of low inflation.
It clocked in at a relatively tame 4.4% in April, with food prices only rising just over 2%. And for rank-and-file members, who unions say generally have eight to 10 dependants, food prices are often the key measure that can fuel or dampen their militancy.
So the above-inflation wage increases of the past, which were often double-digit and hit margins hard, should be easier to absorb.
BUT MEMBERSHIP WANING
"AMCU is at the crossroads and was riding the Marikana wave until now. They now need to reposition themselves as a mainstream trade union. They will have to approach the platinum negotiations in a mature way because what is needed for their members is a sustainable platinum industry," Gideon du Plessis, General Secretary of the Solidarity trade union, which represents mostly skilled workers, told Miningmx.
Mathunjwa's response to that may well be that Solidarity is in bed with "white monopoly capital" – but it is hard to see a bright future for the union if the platinum industry descends into terminal decline.
Still, Mathunjwa is in a corner, faced with regulatory threats of de-registration because of the union's failure to hold timely national congresses and other alleged infractions. And there are signs that AMCU may be reaching a plateau of sorts.
According to data provided by Sibanye-Stillwater to Miningmx, the percentage of its South African workforce who are card-carrying AMCU members fell to 49% at the end of May from 51% at the end of last year. In platinum it actually edged up to 65% from 64% (and the AMCU numbers will of course be much larger when its former Lonmin members are counted).
In gold, its numbers declined slightly to 44% from 46%. Solidarity's du Plessis said his union has noted some movement from AMCU to the National Union of Metalworkers of South Africa (NUMSA), which is also prides itself on its militancy. NUMSA did not immediately respond to requests for comment.
Before his men and speaking mostly in his native Zulu, [Mathunjwa] is a man transformed, mixing Biblical references with African nationalism and strident calls for class warfare
While overall the numbers are little changed, they do suggest that AMCU is no longer really growing its ranks.
In such a situation, it is not easy to read how Mathunjwa might respond. But no one can get a crowd worked up quite like him.
To see him thundering about white monopoly capital at a rally before thousands of his stick-wielding members, as this correspondent has witnessed on more than one occasion, is a sight to behold. In front of journalists and speaking English at a Sandton press conference, he can seem downright uncomfortable and stilted.
But before his men (and they are overwhelmingly men), and speaking mostly in his native Zulu, he is a man transformed, mixing Biblical references with African nationalism and strident calls for class warfare. It is heady stuff: Che Guevara, Billy Graham and Steve Biko all wrapped up into one passionate speaker.
It remains to be seen if he can retain his charismatic influence over his followers. Winter, as they say in "Game of Thrones", is coming.