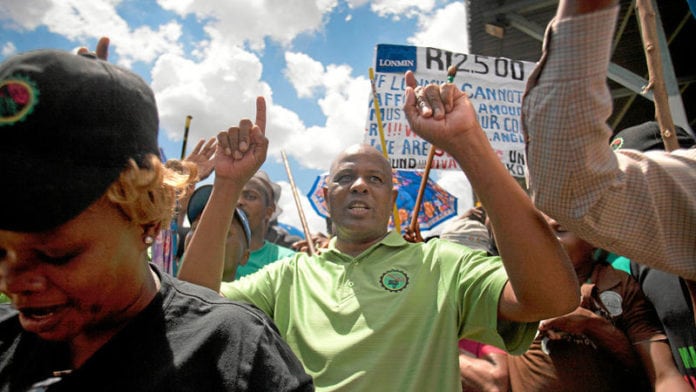 THE Association of Mineworkers & Construction Union (AMCU) president, Joseph Mathunjwa, waded into familiar territory today, raising the prospect of strike action in South Africa's platinum sector.
This follows the first round of negotiations with the country's platinum group metal (PGM) companies Impala Platinum (Implats), Anglo American Platinum (Amplats), and Sibanye-Stillwater aimed at a new three-wage deal.
Although considered an unlikely (but not impossible) scenario by the PGM industry, the mention of a strike shows Mathunjwa has lost none of his appetite for turning a point of contestation into a full-blown crisis, the damaging gold industry strike into which he led AMCU members last year notwithstanding.
As per that strike, the company most attracting Mathunjwa's ire is Sibanye-Stillwater. It submitted a wage offer described by AMCU today has  "… shockingly low".
This was the R300 per month increase in the first year offer for employees of mines formerly owned by Lonmin that Sibanye-Stillwater bought in April. Employees at the Rustenburg mines Sibanye-Stillwater owns were offered R700/month which is in the vicinity of the R800/month tabled by Implats.
Amplats, which of the three companies is the most mechanised and has completed its restructuring programme, offered R1,000/month increase for the first year.
"We are utterly disappointed with the offering at Sibanye Lonmin," said Mathunjwa of the former Lonmin mines which Sibanye-Stillwater refers to as its Marikana shafts). "The current offer of R300 for year one, R350 for year 2 and R400 for year 3 is seen as a slap in the face.
"It is an insult to workers, and we believe that Sibanye is trying to provoke us into strike."
The view of Noah Capital Markets is that the lower offer would "cause ructions with AMCU". But it added that Lonmin's track-record was to pay higher wages than any of its counterparts. "Now we know why Lonmin is at the wrong end of our cost curve … Their labour costs are the highest in the industry," it said.
"The conclusion is that Sibanye-Stillwater is likely to have a bumpy ride in these wage negotiations and has a high possibility of seeing Lonmin workers go on strike," it said.
It added Sibanye-Stillwater might find innovative ways to improve former Lonmin employees wages but that would have to be at a later stage once the mines were integrated into Sibanye-Stillwater's overall operational map.
"Neal Froneman [Sibanye-Stillwater CEO] has a good track record of smart solutions to many problems including settling wage disputes," Noah Capital Markets said.