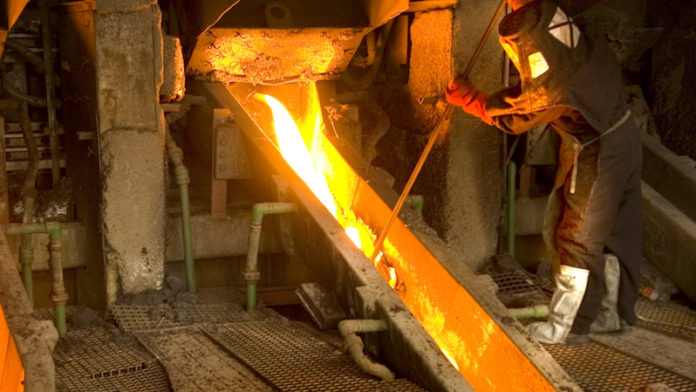 AN estimated 331,000 ounces in platinum group metal (PGM) production had been lost as a result of South Africa's COVID-19 related national lockdown to date, said Anglo American Platinum (Amplats).
Commenting in a first quarter production update, the group also adjusted its production guidance for the year in terms of concentrate and refined production, adding that the forecast numbers could yet be disturbed in the event of additional lockdowns or COVID-19 infections on its premises.
The company also said production turned on reaching agreements with stakeholders – principally unions – on the resumption of mining. As a result further downside risk was "possible", but at the revised metal-in-concentrate numbers, all material "should" be refined in 2020, the company said.
Metal-in-concentrate (M&C) production for 2020 would be 3.1 to 3.6 million in PGM 5E + gold production – a hefty one quarter reduction on previous guidance of 4.2 to 4.6 million oz. Refined production would come in at between 3.1 to 3.6 million oz compared to previous guidance of 3.3 to 3.8 million oz.
Previous refined production guidance had factored in the impact of an accident in February at the firm's Anglo Converter Plant (ACP) – facilities located at its Waterval premises in Rustenburg. The ACP was partially knocked out following an explosion at Phase A of the ACP. The detection of water ingress in Phase B, requiring its shutdown, then put pay to any production from the facilities in the short-term.
Repairs to Phase A would take a year but Phase B was to be fixed by May – a deadline that Amplats said today was on track, notwithstanding the national lockdown because parts had been procured from within South Africa before the lockdown took hold.
In line with capital cost reductions undertaken by Amplats' parent company, Anglo American, the group had identified some R4bn in operating cost and capital expenditure savings. As of March 31, Amplats had net cash of R11.8bn which included obligations. It also had R20.5bn in committed facilities available.
First quarter metal in concentrate production was 954,800 oz representing a 7% quarterly decline year-on-year equal to 61,000 oz. Refined production was 15% lower at 743,000 oz. Sales at 681,300 oz were 13% lower in the first quarter but had been supplemented by palladium held in inventory, the company said.
HOW OPERATIONS AFFECTED
Mogalakwena complex: The operation's surface processing operations were allowed to continue during the lockdown. As an essential mining operation, limited mining operations started on April 8 which continued for the duration of the lockdown period.
Unki complex: After being placed on care and maintenance on March 30 by the Zimbabwean government, mining operations reopened on April 7 following approval for a resumption. Unki's concentrator is scheduled to start at the beginning of May but the smelter remains on care and maintenance.
Polokwane smelter: After being initially placed on care and maintenance, the Polokwane smelter was ramped-up on April 14 and is now running at full capacity to smelt the material from Mogalakwena mine.
Other operations: The Amandelbult and Mototolo mines were placed on care and maintenance and were not restarted as essential operations. Similarly, the Modikwa, Kroondal joint ventures were idled. The Mortimer and Waterval smelters and base metal and precious metal refineries were also on care and maintenance.
Some third-party purchase of concentrate production was started at a limited capacity during the lockdown period, said Amplats