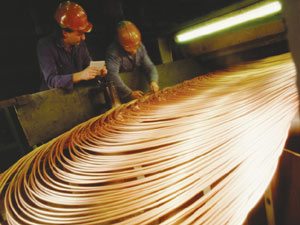 [miningmx.com] – THE price of copper fell to its lowest level since 2009 as part of a rout that affected nearly all commodities, said Bloomberg News.
Copper used in pipes and wires is heading for a 4.3% this week, the worst loss in a month largely owing to continued reduction in Chinese economic growth.
"The focus of the market is on the Chinese economy and the timing of any US rate hike, but China is the number one focus,' Ivan Szpakowski, commodities strategist at Citigroup, told Bloomberg Television.
The contract to deliver copper in three months on the London Metal Exchange fell as much as 1.3% to $5,202.50 a metric ton on Friday, the lowest level since 2009, before trading at $5,247, said Bloomberg News.
Click here to read the full article