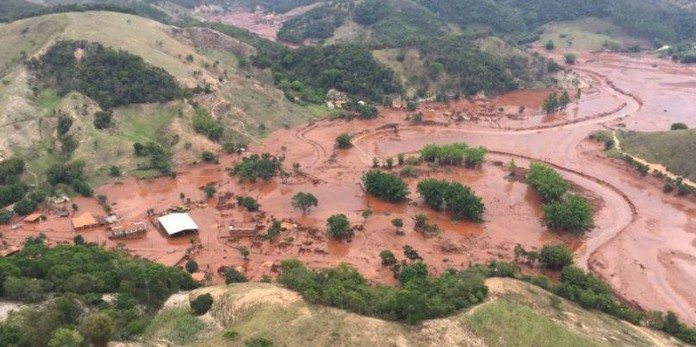 SHARES in BHP Billiton headed for their steepest fall since 2008 after Brazilian prosecutors filed a civil suit against the Melbourne-headquartered company worth $43bn, said Bloomberg News.
The suit, which also includes Vale, relates to the rupture of a dam at Samarco, an iron ore producer that the two companies operate in joint venture. The event resulted in the death of at least 19 people and extensive environmental damage, the newswire said.
The prosecuting task force is demanding the two companies and Samarco provide ad initial payment of 7.8 billion reais​ ($2.19bn) within 30 days, said the SMH citing a statement from the prosecutor's office. The civil suit also challenges a previous agreement the companies signed with Brazil's federal and state governments, said the Sydney Morning Herald.
In previous cases involving big corporations, large initial claims like this one have eventually been settled for much smaller amounts, said the SMH.
BHP told the market in March that a preliminary deal with the Brazilian government would cap the financial penalties for the Samarco partners at about 9.2 billion Brazilian Real ($2.58bn).
"Many investors interpreted the settlement to mean that Vale and BHP Billiton had left the bulk of Samarco's liabilities behind them," wrote the Wall Street Journal.
"Shares of both companies, after plunging in the wake of the disaster, have rebounded in recent months. Vale's stock more than doubled between early February and late April, aided by a rally in iron-ore prices," the newspaper said.
However, the settlement wasn't signed by the task force of public prosecutors that has been investigating the Samarco disaster since it happened.
Prosecutors have criticized the deal for not involving victims in negotiations, for failing to establish legal mechanisms to ensure that the mining companies would meet their obligations, and for ignoring the government's responsibility for the disaster, said the Wall Street Journal.
"Input from the public prosecutors' office was not considered by the negotiating parties," the lawsuit said, adding that the government and companies appeared to be in a hurry to get a deal signed. "This resulted in a settlement that was incomplete, precarious and partial."
Shares in BHP Billiton were last trading at A$18.79/share in Sydney, a decline today of 9.3%.