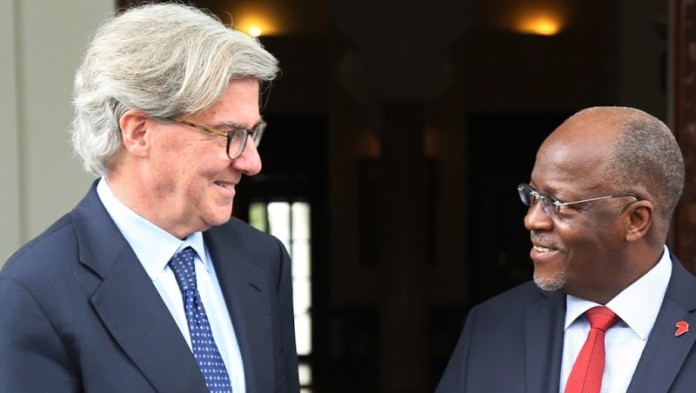 ANYONE operating in Tanzania's mining sector today will be keeping a keen – and perhaps anxious – eye on Acacia Mining minority shareholders next year as they decide whether to accept Barrick Gold's compromise deal with the Tanzanian government.
This is the 'framework agreement' that complies with newly enacted laws in Tanzania, one of which is to hand 16% in shares of locally operating firms to the government. The other key concession is best described as a kind of downpayment of $300m that Barrick recommends Acacia make to the government.
It's described by Barrick in an October 19 statement as "gesture of goodwill" ahead of its detailed negotiations with the government regarding the alleged under-payment of taxes and duties by Acacia to the Tanzanian fiscus over a period of about 20 years.
Acacia Mining took pains to show it could not have underpaid taxes, at least not on the scale two Tanzanian presidential reviews estimated which was tens of billions in dollars. This goodwill gesture looks more like an admission of guilt. One wonders how much more Acacia will end up having to pay to the Tanzanians, not to mention how it will make the payment given its net cash resources have just ebbed at about $24m.
The most curious aspect of this, though, is why Barrick was so pliant? Acacia has the Tanzanian state's allegations with the International Court of Arbitration and has set in place an operational plan that should see it withstand the impasse. And why did Barrick agree to have Acacia executives excluded from the negotiations with the government that led to the framework agreement?
Presumably Acacia chairman, Kelvin Dushnisky who is also the president of Barrick Gold, was in full agreement, or he would have relinquished one post of the other. Regardless of the politics, this turn of events is surely the source grievance which has resulted in the resignations of Acacia CEO, Brad Gordon and Andrew Wray, the CFO. A third executive, Mark Morcombe, the company's chief operating officer, is also leaving.
"The inability of the Acacia executive to participate in negotiations and the resultant framework which proposed the formation of an operating company enabling the government to participate in decisions relating to operations, investment, planning, procurement, and marketing appear to undermine the ability of management to direct the company," said Andrew Breichmanas, an analyst for BMO Capital Markets.
Acacia is now to lose "… the architects of its operational turnaround" over the last four years, as Breichmanas described it. The exodus of skilled operational staff can't be positive for Acacia's future. Barrick has long been a seller of its shares in Acacia – it tried again to offload the firm in 2016 when it was valued then at $1.9bn. Well, it's certainly sold the firm now … down the river possibly along with other vulnerable miners in Tanzania.