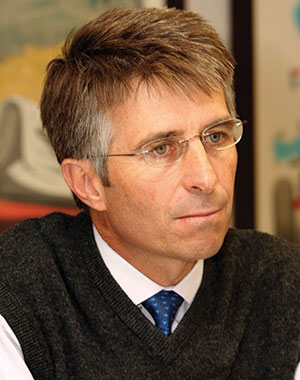 Clifford

Elphick
CEO: Gem Diamonds
'I too am a large shareholder and I am just as disappointed as you are'
GEM Diamonds stands out from its peers in the diamond mining sector by virtue of its frequent discovery of particularly large diamonds from its jewel in the crown, the Letšeng Diamond Mine in Lesotho. That makes it easy to ignore the fact that Gem Diamonds' only other asset, Ghaghoo, is a white elephant – a mine in Botswana on care and maintenance that Gem spent $85m developing and which is now proving impossible to sell for even $4m. Taking both of those assets into account, Clifford Elphick's past year has been both good and bad.
Good, because Letšeng has delivered 10 exceptional diamonds that have sold for more than $1m each. But frustrating because Gem's second attempt to sell Ghaghoo to a consortium of Okwa Diamonds and Botswana Diamonds collapsed midyear as the buyers could not raise finance. Elphick says additional buyers have emerged "of greater or lesser credibility". Pursuing the sale of Ghaghoo is one option – the other is to give the licence back to the government "and call it a day", he says. In the coming year, Elphick's focus will be on holding operating costs down, working on feasibility studies on an underground satellite operation at Letšeng, and looking for other assets, to get away from being a one-horse pony.
Gem's management has paid several visits to Angola, which has become a more attractive mining destination. "While we have a gleam in our eye, we don't have anything to report yet. We are evaluating three to four opportunities," he says. Gem shareholders can also expect further share buybacks – the first, launched in mid-2022, was prompted by the company's conviction that its shares were undervalued, but it hasn't halted a weakening in the share price.
LIFE OF CLIFFORD
Elphick, a former MD of E Oppenheimer & Sons and an executive director of De Beers, founded his own company, Gem Diamonds, in July 2005, with Letšeng at its core. Gem was listed on the Main Board of the London Stock Exchange in 2007, in a highly successful IPO that raised $635 million. The bonanza was used to make various acquisitions, but the only one left in Gem today is the Gope deposit, which became the Ghaghoo mine. Elphick is popularly known in South Africa as the owner of the Kurland Polo Estate in Plettenberg Bay.
More Rainmakers & Potstirrers