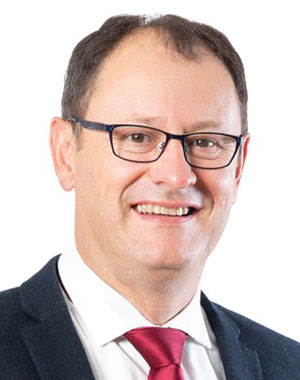 Andries

Van Heerden
CEO: Afrimat
'The quality of opportunities that we see in and around South Africa at present is probably the best we have ever seen'
ANDRIES Van Heerden's careful assessment of potential acquisitions helps to explain the success of Afrimat's diversification over the past decade from construction materials to bulk minerals. Afrimat targets the projects that are too big for small companies and too small to interest the majors, but the bottom line is always the bottom line for Van Heerden. For instance, he decided to walk away from the $45m Gravenhage manganese acquisition in 2022. It was not the first time Van Heerden decided against a deal shareholders might have thought was in the bag.
He also ditched the purchase of Universal Coal in 2021, saying that after taking a closer look, Universal's return on investment was not what was originally anticipated. Gravenhage was discarded because the water-use licence that was granted did not meet the requirements of the sale agreement. Most critically, only 1% of the water needed for the mine would be available in terms of the licence. Offsetting that disappointment for shareholders was the closing of the deal to buy Glenover, which presents Afrimat with 'future materials' such as phosphate, vermiculite and rare-earth minerals.
The Glenover acquisition also dilutes Afrimat's exposure to bulk minerals – iron ore and anthracite – as iron-ore prices have come under pressure in the past year. The group obviously has no control over international iron-ore prices, but its focus has been to set a strong base in iron ore and manage those assets as efficiently as possible. Although R300m has to be paid for Glenover, Afrimat will still have quite a lot of change left from the R680m that was raised in mid-2022. Van Heerden plans to use some of those funds for expansion at Nkomati.
LIFE OF ANDRIES
After obtaining his degree in mechanical engineering from North West University, Van Heerden spent six years working for Grootegeluk coal mine. He served as MD of Prima Quarries from 2003-2005 and CEO of Lancaster Group in 2005, and was then instrumental in merging those two businesses to form and list Afrimat on the JSE in 2006. Van Heerden, who holds an MBA from Stellenbosch University, won the Master's category of EY's World Entrepreneur Award for Southern Africa in 2017. He describes himself as "a results-driven, performance-orientated people person".
More Rainmakers & Potstirrers