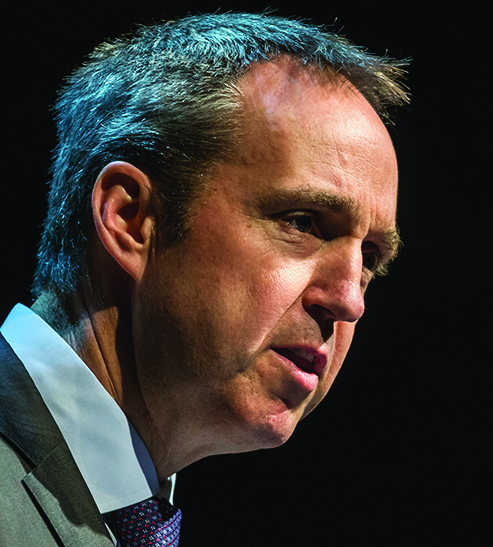 'We have been able to make great progress to become a truly global, diversified producer of the metals critical to a low-carbon future'
SOUTH32'S Graham Kerr last year countered questions over retirement by saying his work was not yet done. Far from it, broad-brush portfolio positioning continues to be the name of the game for the group's founding CEO. A major issue at South32 is its exposure to fossil fuels. It sold its South Africa thermal coal mines in 2021 but still produces metallurgical coal from Australia.
Meanwhile, South32's Hillside aluminium facilities in South Africa are supplied by Eskom's coal-fired power stations. These are sensitive issues for shareholders as well as metal buyers, who will pay a premium for emission-free aluminium. That's why South32 lifted its stake in Mozal Aluminium to 63.7% and reopened its aluminium operations in Brazil. Mozal is hydropowered while the Brazilian facilities are 100% supplied with renewable power. South32's 'greener' look was also boosted by a decision not to extend production at the Dendrobium Next expansion at Illawarra Metallurgical Coal in New South Wales, Australia, although South32 said the main reason was its below-threshold investment returns.
On this front, South32 has continued with its share buy-back strategy, which contributed to $1.3bn in capital returns for the year ended June 2022. Elsewhere in the group, Kerr opted not to press on with the Eagle Downs metallurgical coal project in Queensland but sealed the $1.55bn in cash acquisition of Sierra Gorda, which adds revenue to the group's putative base metals division, where project studies are underway in Arizona and Alaska in the US. Closer to home, state-owned rail and ports company Transnet continues to give Kerr heartburn.
Publicly, he keeps an open mind on the South African business, especially manganese, where the firm is in joint venture with Anglo American. A possible expansion of manganese production is being examined although the firm is quite likely perplexed by Transnet's interest in opening up rail capacity to new companies rather than existing players with the advantage of scaleability.
LIFE OF GRAHAM
Kerr, who holds a business degree from Edith Cowan University, Australia, and is a Certified Practising Accountant, joined BHP straight from university. He worked for the group in South Africa, South America and North America, as well as Australia before being appointed to head BHP's spin-off, South32. He modestly puts his success down to being in the right place at the right time, working hard, and having a supportive family. He has been recognised for his work on gender equality in the workplace and is a director of CEOs for Gender Equity, an association of business leaders that addresses gender inequity in Western Australia.
More Rainmakers & Potstirrers