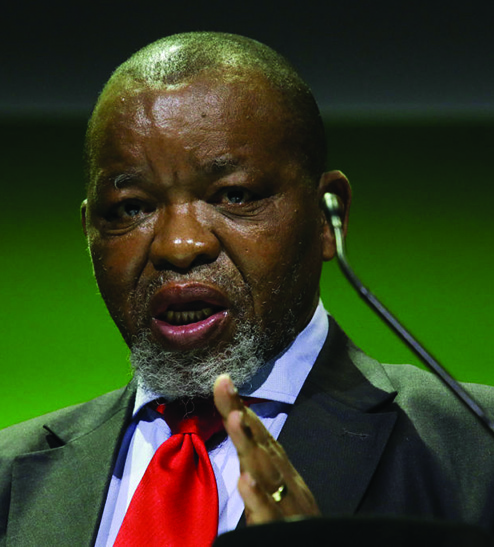 Gwede

Mantashe
Minister: Mineral Resources & Energy
'Eskom must attend to this problem. By not attending to load-shedding Eskom is actively agitating to overthrow the state'
LAST year marked the end of the South African mining sector's honeymoon with Minerals and Energy Minister Gwede Mantashe, whose replacement of the scandal-tainted Mosebenzi Zwane in 2018 was initially welcomed. The relationship had long been on the rocks as the Department of Mineral Resources and Energy (DMRE) collapsed into dysfunction, with logjams for mining rights and related applications while policymaking remained muddled amid the painfully slow relaxation of regulations to enable self-generation projects. When Mantashe failed to give his scheduled keynote address to the Joburg Indaba, a mining conference, in October, it was viewed in some quarters as the showing of a ministerial middle finger to the industry.
Still, Mantashe's department made headway on some fronts. It announced in November that the applications backlog had been slashed to 2,625 from over 5,000 in early 2021. The DMRE also scuppered its chaotic plans to tender for a built-from-scratch mining cadastre and now seems to have reluctantly yielded to the industry's preferred option of an off-the-shelf system to provide transparency to mining rights and South Africa's mineral wealth. That would replace the useless Samrad system that has created the applications fiasco and the timetable calls for the replacement to be contracted for early in 2023.
Mantashe also courted controversy in his typically combative style, accusing state-run power utility Eskom of trying to overthrow the state through its failure to reliably keep the lights on. That was seen as a key trigger for the departure of Group CEO André de Ruyter. But Mantashe's political star remains bright: at the ANC's Elective Conference in December he was re-elected party chairperson. His support of South African president Cyril Ramaphosa also seems to have landed him responsibility for Eskom which will be moved to his energy ministry - a turn of events that is giving some market watchers the shivers.
LIFE OF GWEDE
Mantashe is a former miner and trade unionist who once led the National Union of Mineworkers. In recent decades, he has been a political heavyweight in South Africa's ruling ANC as its secretary general and chairperson. By turns jovial and gruff, he is thin-skinned and known for bizarre and controversial statements. Hailing from Lower Cala village in South Africa's Eastern Cape province, his early anti-apartheid activism drew him to the Student Christian Movement. Minister of Mineral Resources and Energy since 2018, he has had a roller-coaster relationship with a mining sector that initially embraced him but soon tired of the department's collapse into dysfunction.
More Rainmakers & Potstirrers