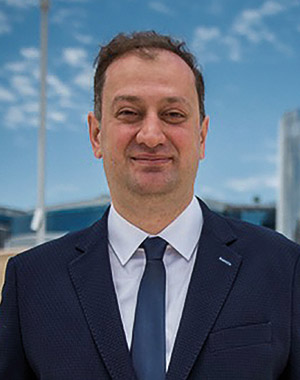 Vuslat

Bayoğlu
MD: Menar Holdings
'With Russian gas unavailable, the whole concept [of coal] will change as Europe needs baseload power either from coal, gas or nuclear energy'
HAVING spent years making the uncomfortable observation that the world can't yet rely on renewables for baseload power, Menar's Vuslat Bayoğlu was partly vindicated, albeit as an outcome of tragic events. The invasion of Ukraine by Russia sent many of the world's leading economies into an energy security tailspin, and thermal coal prices through the roof. As a coal producer, Menar is in a good position to make hay, although it's debatable how long that may last for.
With energy security so high on government agendas globally, it's now estimated it will take only five years for green energy to outstrip coal, according to a recent report by the International Energy Association. Bayoğlu, however, thinks broad-scale adoption of renewable power isn't the best option for South Africa. "How do you shut down a 2,000MW coal-fired power plant and replace it with a 10MW solar panel?" he asked last year about Eskom's 'just transition' strategy. Eskom aims to ease communities dependent on coal production into other economic activities, but Bayoğlu thinks it will put 90,000 jobs at risk. He also expressed concerns regarding Transnet, which is costing the country billions of rand in lost coal export revenue as a consequence of poor delivery levels. For all this, Menar had a strong year.
Two flagship mines - Khanye Colliery and Phalanndwa Colliery - were expected to exceed production targets. On the project front, the firm's Kangra mine is aiming to add 20 years of life, while at the R1.5bn Bekezela project there are hopes permitting can be speeded up. Anglo American CEO Duncan Wanblad identified permitting as key if the world is to secure decarbonising minerals. Bayoğlu would agree: he said the appointment of Sipho Nkosi, a coal industry veteran and appointee to the Presidency charged with cutting down on red tape, ought to help speed up the licensing that Bekezela, among others, requires. Here's hoping.
LIFE OF VUSLAT
The founder of Canyon Coal, Bayoğlu was born in Erzurum, Turkey. He holds a BSc Honours in mechanical engineering from the Middle East Technical University. Soon after moving to South Africa in 2002 he became involved in the local coal industry. Unlike the CEOs of many unlisted junior coal miners, Bayoğlu understands the value of communication and, apart from ensuring employees get regular newsletters, he has funded training courses for mining journalists. His hobbies are collecting model cars and aeroplanes.
More Rainmakers & Potstirrers