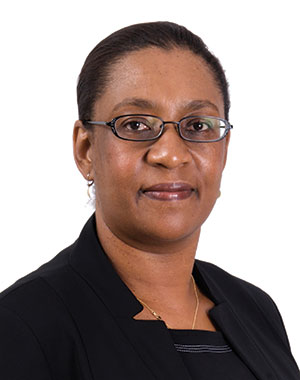 Zanele

Matlala
CEO: Merafe Resources
'We remain cautious in our approach and will continue to focus on efficient operations, cash preservation, cost control and efficient capital allocation'

"The full year dividend will take care of questions around cash."
IF there's one word that could sum up Zanele Matlala's business approach, it's 'caution'. It has been a guiding principle for the last three sets of financial results, possibly as the ferrochrome business is infamously volatile. In any event, Matlala has built up Merafe's cash reserves as the market has recovered from the impact of the Covid-19 crisis. Not all shareholders are happy with that approach, feeling that more of the company's resurgent revenues could be paid out in dividends.
Matlala's riposte to such criticism, often levelled at the interim stage, is to wait for the year-end payout, to which the dividend is weighted. That said, Merafe is treated as a cash cow - possibly at the behest of Glencore, which is the 80% shareholder in the Merafe-Glencore Joint Venture - the entity that presides over Merafe's one-million-tons-a-year ferrochrome production facilities. Matlala is similarly cagey on merger and acquisition activity after once - many years ago - raising the possibility of moving into coal. A share buy-back programme of several years ago is also unlikely to be resuscitated.
The bottom line is that Merafe had cash holdings of R1bn in mid-2022 but shareholders should not expect any sudden bursts of generosity despite Matlala's oft-repeated mantra that "we remain committed to maximising return to our shareholders in the near term". Still, Merafe represents a sizeable chunk of South Africa's chrome production and is a prominent and intensive energy consumer, which puts it at loggerheads with the state-owned power utility, Eskom. Citing energy challenges, Merafe has supported government plans for a tariff on cheaper ferrochrome imports.
LIFE OF ZANELE
Matlala is a chartered accountant and was mentored by her previous boss at Merafe, lawyer Steve Phiri. She joined Merafe in 2005 as an independent non-executive director and was appointed CFO in 2010. Matlala was promoted to the top slot in 2012 when Phiri moved to Royal Bafokeng Platinum. Matlala is also a non-executive director of the Dipula Income Fund, Stefanutti Stocks Holdings Limited, RAC Limited and Royal Bafokeng Platinum. She has previously worked as the financial director of Kagiso Trust Investments and was the CFO of the Development Bank of Southern Africa.
More Rainmakers & Potstirrers