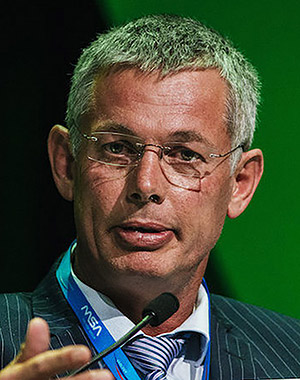 Nico

Muller
CEO: Impala Platinum
"Implats' offer for RBPlat offers compelling strategic, operational and financial benefits for all stakeholders."
A YEAR ago, Nico Muller was fighting Northam Platinum for control of Royal Bafokeng Platinum (RBPlat), for which Implats made a takeover bid at the end of 2021, and he's still embroiled in that struggle. The bid was initially stymied when Northam CEO Paul Dunne gatecrashed the party by buying the strategic stake held in RBPlat by its holding company – Royal Bafokeng Holdings. During calendar 2022 Northam and Implats slugged it out as each built up their stakes. Then in November, Dunne launched Northam's own bid for control.
The future of RBPlat could be decided by what the Public Investment Corporation decides to do with its 9% stake in the company. For now, it's not selling. The merger seemingly makes far more sense for Implats than it does for Northam because of the synergies inherent for Implats, whose operations sit adjacent to those of RBPlat. Dunne maintains the deal presents a unique opportunity for Northam to benefit from RBPlat's "inherent value and growth opportunities". So this contest could well drag on into the first half of 2023. All this aside, Implats is heading into what Muller has described as challenging conditions in 2023.
The platinum price has flatlined at or just below $1,000/oz for the past year. Demand could rise this year, pushing prices up, but the mines are increasingly being hit by Eskom load-shedding and cost inflation, and then there's the ongoing difficult socio-economic situation around Rustenburg, where the bulk of Implats and Anglo American Platinum's mines are located. Muller indicated in October that he was sticking to the forecast that Implats would hold refined platinum group metal (PGM) steady during 2023 at between three million and 3.15 million ounces, but costs are forecast to increase by 10.6% to as high as R19,200/oz of PGM produced.
LIFE OF NICO
Muller holds an engineering degree from the University of Pretoria. He made his name so to speak during the three years when he ran Gold Fields' then highly dysfunctional South Deep mine, which he managed to restore to profitability. But the operation promptly headed back into the red when he left to take the top job at Implats. There were plenty of doubters that he had the experience and skills to run Implats but Muller has proved them all wrong and cracked it on all fronts, so the eventual outcome of the struggle with Northam is going to be really interesting.
More Rainmakers & Potstirrers