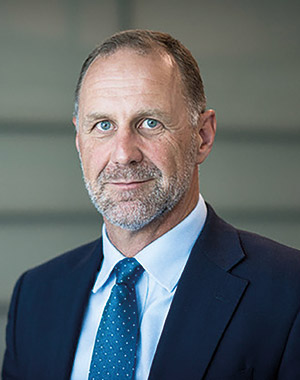 Ian

Purdy
CEO: Paladin Energy
'We're walking away from a lot of conversations that aren't price-right for us right now and we'll continue to look for opportunities to build the book over the next 18 months'
AFTER several years of hemming and hawing, Paladin Energy finally announced the restart of its 75%-owned Langer Heinrich, the Namibian uranium mine that has been on Paladin's books for decades. It was mothballed in 2018 amid a declining uranium oxide price but the commodity wheel has turned. According to analyst consensus, uranium oxide contract prices will be at $60/lb by 2024, the year Langer Heinrich restarts with a nameplate capacity of six million pounds a year - equal to 4% of annual global uranium production.
At $118m, the restart will be a quarter more expensive than first forecast owing to inflation and a reschedule of work packages related to securing water and power to the site. Roughly 5% of production has been sold to "a leading Fortune 150 North American power utility" and a further 25% to China's CNNC. Both deals are structured with price mechanisms. So far so good for Purdy's Paladin, which must now box smart with the balance of supply. He told the Diggers & Dealer's conference this year the company had walked away from less-than-appetising offtake offers.
Meanwhile, the redevelopment of Langer Heinrich is bumper news for Namibia. Its finance minister, Ipumbu Shiimi, said more new sources of production were in the offing. There's nothing like price optimism in a rising market; the question is, how high can uranium go? Energy security has been given new impetus by the fallout from Russia's invasion of Ukraine. In this context, it's important to call to mind nuclear's efficiency: one fingertip-sized pellet, a mere grain, yields as much energy as a ton of coal. Other forecasts say uranium oxide prices might soar through $60/lb in the next few years. Let's see where the world takes us. It's worth remembering the mineral's price in 2017 of a mere $30/lb.
LIFE OF IAN
Purdy is a chartered accountant with a bachelor's degree in business and commerce from the University of Western Australia. He was recruited to Paladin from Quadrant Energy, where he was CFO. Quadrant is one of Australia's largest oil and gas companies, producing more than 20% of Western Australia's domestic gas production and a significant proportion of Australia's oil. Before Quadrant, Purdy was MD of Mirabela Nickel Limited, an ASX-listed nickel producer operating in Brazil. During his time at Mirabela, the company raised more than $350m in equity and refinanced about $450m of complex legacy debt positions.
More Rainmakers & Potstirrers