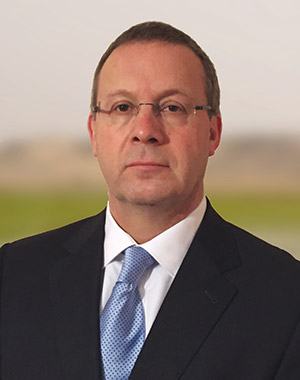 Daniel

Major
CEO: GoviEx Uranium
'We're putting the pedal to the metal because this is the time'
GOVIEX will this year know if efforts to develop the Madaouela uranium project in Niger have been worth the painstaking number of years. That's because Daniel Major will be casting about for an estimated $350m in project funding. A feasibility study published in September put production at 2.67 million pounds a year and further trimmed preproduction capital to $343m. Promisingly, in the context of $40 to $50/lb uranium oxide spot prices, total operating costs net of byproducts (before royalties) are $29.94/t.
Madaouela is also one of the world's largest uranium oxide deposits in the world's fifth largest producer in a market that is clearly starting to incentivise production, so what's not to love? According to Major, the market stacks up relatively simply: 190m lb is consumed annually against production of 122m lb. Inventories exist but utilities aren't parting with them. Given this increasingly illiquid market, the deficit is expected to bite around 2025, which is when Madaouela is scheduled to commission. Sprott Capital, the Canadian fund, is clearly a uranium bull. It has some $3bn of the material in its Sprott Physical Uranium Trust and in October presided over a doubling in a GoviEx share placement that totalled C$10.5m.
GoviEx has another prospect in Mutanga, an open pittable heap leach asset in Zambia worth over two million pounds a year in production, and the Falea exploration site in Mali also containing 63m lb of copper, albeit at a slim 0.2% grade. But one question nags: GoviE's shares lost 50% in 2022 - not the ideal backdrop ahead of a funding year. One other quibble is Niger's sporadic Islamic insurgency. Major, who toasts the country's 'get the job done' approach to mining, says this kind of political foment is far from Madaouela.
LIFE OF DANIEL
Major studied at Camborne School of Mines in Cornwall, once the capital of the UK's mining industry. In his 30 years in mining, he's worked at Rio Tinto's Rössing uranium mine in Namibia and for Anglo American Platinum in South Africa. He then dipped out of the operational side of things and took up a role as a mining analyst with HSBC and then subsequently JP Morgan Chase. Since then, he's held several roles in Russia, Canada and South America, and has been with GoviEx since 2012.
More Rainmakers & Potstirrers