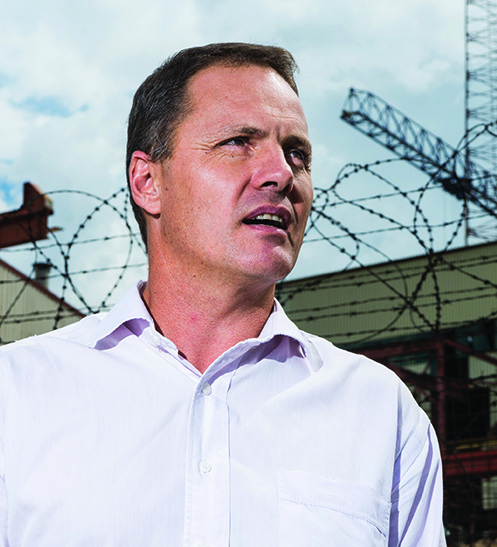 Niël

Pretorius
CEO: DRDGold
'A high gold price is meaningless if one does not have the infrastructure and capacity to produce it'
NIËL Pretorius has been outspoken in his criticisms of South Africa's shortcomings over the past few years. At the end of 2021, he sounded off about the growing levels of crime and increasing anarchy in the country, which he said was "a clear and emerging risk". Anyone following the events of the past year at Transnet and Eskom will recognise these risks.
But Pretorius lately has also been emphasising the positives of operating in South Africa – apparently in response to last year's assessment by the Fraser Institute that the country ranked in the world's 10 least attractive mining investment destinations. Pretorius reckons that "South Africa remains too good a jurisdiction in terms of its mineral endowment to simply turn one's back on". He also laid out what companies like DRDGOLD have been doing to cope through "owning certain risks and becoming increasingly self-reliant". The most recent example of this is the surge in companies setting up their own alternative energy plants to cut reliance on Eskom.
Pretorius also cited DRDGOLD's moves to provide the bulk of its water internally, and the use of the private sector for security on its plants. He summed it up as "a recurring theme in the private sector where the state falls short, private capital steps in and finds solutions for complex problems, in the process becoming increasingly resilient and independent of the state". Being resilient has long been a key strategy for Pretorius and it drove the merger with Sibanye-Stillwater to secure DRDGOLD's long-term operating future.
That link could further help DRDGOLD through diversification into metals required in the renewable energy sector. That is a priority for Sibanye-Stillwater, which Pretorius says he fully supports because it "could potentially position our company very favourably for what could be an exceptionally long bull cycle in future metals".
LIFE OF NIëL
Pretorius is a lawyer by profession, with BProc Rand Afrikaans universities. He joined DRDGOLD in 2003, using his law background to become the company's legal adviser. From that start he worked his way up the management ranks, being appointed CEO in January 2009. He has kept DRDGOLD's complex technical operations running on track and coping with marginal profit margins, but has spotted deals to transform the company. The first major such deal was when he built up DRDGOLD's equity stake in the Ergo project as its major Australian partner, Mintails, got deeper and deeper into financial trouble.LLB and LLM degrees from the Free State an'A high gold.
More Rainmakers & Potstirrers