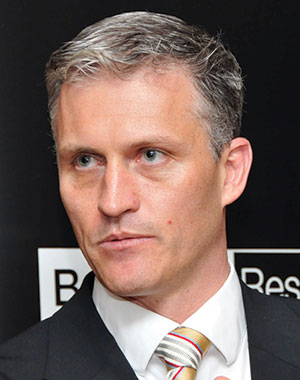 Leon

Coetzer
CEO: Jubilee Metals
'Our positive trajectory is a foretaste of what is to come to rapidly expand our operational footprint in Zambia and seize further growth opportunities in South Africa'
IF there's one conclusion to be drawn from the events of the past year for Jubilee it's that Leon Coetzer – and his mentor, former chairman Colin Bird – are a lot better at fundraising on the stock market than forecasting developments for their group. After a decade of underperformance – Jubilee stock collapsed from 50 pence in June 2009 to below 2p in 2014 and stayed there until about August 2020 – the company's shares surged back to life, spiking to 20p in May 2021. Jubilee promptly took advantage of that to raise £30m at 16p a share in September 2021 to fund its expansion in Zambia.
A year ago Coetzer was waxing lyrical about prospects, saying Jubilee was planning a global roll-out strategy to address vast international opportunities, with the group "in a unique space, positioned to make a difference on a global scale". A year later, he is still speaking volubly on prospects but the investors who kicked in for those shares at 16p a pop cannot be too happy because the stock has been on a steady decline throughout 2022, down to current levels around 10p. At end-June Jubilee shares had a tangible net asset value of just 4.8p a share, which was 40% up on a year previously.
As part of the global development plan, Jubilee founder Bird is stepping down and will act in an advisory role to new chairman 'Ollie' Oliveira. Coetzer listed a string of achievements for 2022, including completion of construction on the new Roan copper concentrator, with nameplate throughput rates achieved in September while construction and ramp-up of the 45%-expanded Inyoni operation was completed in March. The company also settled long-term debt of £5.3m but earnings were 25% down at £36.8m.
LIFE OF LEON
Coetzer has been running Jubilee since 2010, when he was promoted from MD of smelting and refining to replace Bird, who was then CEO. Coetzer is a metallurgist by training, with a degree in chemical engineering from Stellenbosch University. Before joining Jubilee he worked for Anglo American for 20 years, of which 16 were spent with Anglo Platinum, where he held various technical and operational management roles. His management style has always been low-key, leaving Bird to act as the front man. However, that may be changing judging by the forward-looking hype in his reviews over the past two years, which investors will be hoping he can deliver on.
More Rainmakers & Potstirrers