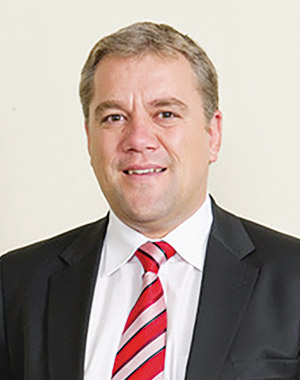 Maritz

Smith
CEO: Alphamin Resources
'Volatility in the tin market, coupled with the recent price collapse, sets the scene for the next bull market'
AFTER deciding in July last year not to cash in on its 84% stake in Bisie tin mine in the Democratic of Congo, Alphamin ran into a major correction of the metal's price, which fell to around $20,000 per ton from $80,000/t only months earlier. Murphy's Law, you might conclude, but Maritz Smith chose in retaining the asset to play the long game. The tin market is a tiny 300,000t/year. According to Smith, tin supply from the important Indonesian market is growing increasingly uncertain while another large producer, Peru, is turning to tailings retreatment to sustain its volumes.
Set against this, Alphamin is pressing ahead with the $116m expansion of Bisie via the Mpama South deposit, which will take production to 20,000t/year - about 6% of world supply - from 12,000t/year. About 90% of long-lead items for the project have been ordered with prices locked in, and civils work has started on site. If all progresses smoothly, commissioning of Mpama South will be complete by January. Commenting on market prospects, Maritz said volatility in the tin market would negatively impact exploration and set the scene for "the next bull market". Tin has been described as "the glue of the internet of things" owing to its use as a solder in electronics and packaging. But tin has potentially massive demand in the form of lithium-ion battery manufacture and in solar panel manufacture.
Currently, there's 200GW of installed solar capacity requiring 14,000t of tin. Miniaturisation of electronics, which has kept a cap on the supply deficit, is also fading while the reopening of China's market post the strict Covid-19 lockdowns is expected to add a bit of demand appetite. Alphamin meanwhile is padded against further market shocks. As of its half-year results, cash totalled $111.3m, nearly three times the level of the previous year.
LIFE OF MARITZ
Smith is a chartered accountant holding a BCom Honours degree. After gaining his professional qualifications, he entered the mining sector as a financial controller for Metorex. Smith then became a member of the Metorex executive committee and was appointed CFO before resigning to become COO at Pangea - mining entrepreneur Rob Still's operating company. He was appointed CEO at Pangea before taking up his latest position with Alphamin.
More Rainmakers & Potstirrers