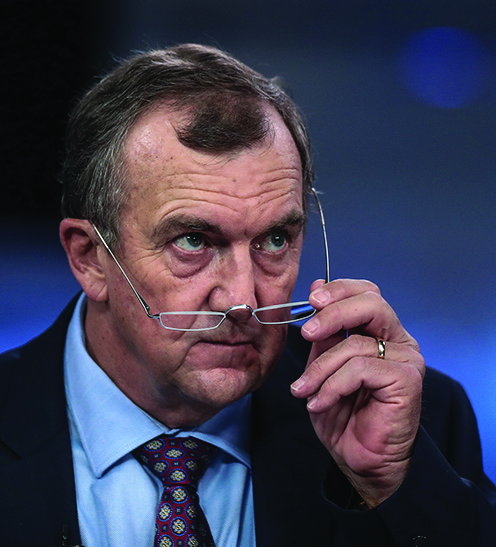 Mark

Bristow
CEO: Barrick Gold Corporation
'The Central African copperbelt is very interesting to me and we've got a full exploration base there now. It's a lot of energy and I think we will grow this company'
IN typical style Mark Bristow glossed over the resolution last year of what observers reckoned was the most embarrassing issue of his tenure as Barrick CEO. That was prising $1bn owed to it and partner AngloGold Ashanti from the Democratic Republic of Congo's (DRC's) Kibali mine out of the sticky hands of the DRC government. According to Bristow, it was "admin" connected to the fact the country had a new prime minister and new cabinet appointees. You could speculate - and this is speculation - that when you have such a large amount of money sitting in a bank account, people may find it hard to let it go.
But that admin took years and must have been a serious thorn in the flesh of a man used to getting his own way and who had repeatedly predicted the imminent release of the funds. Bristow's preferred style is unrelenting forward momentum and that is set to continue this year with the regulatory approval of the company's reformed Reko Diq project in Pakistan and comments in December that the company was looking at mineral deposits in Indonesia. The reputedly unstoppable rise in the copper price may also finally catalyse action in sub-Saharan Africa's copperbelt, where Bristow said Barrick is ready to pounce.
He's also looking to tackle the last of the legacy issues at the company that have not yet been addressed. One sign his efforts are paying off comes from the relative performance of the Barrick share price against that of rival Newmont Mining. That has long been a sore point with Bristow, who admitted in May last year that Barrick was lagging and "had a way to go" before it could convince investors its improved financial performance was sustainable. That message is getting through, especially as Barrick paid out handsome quarterly dividends last year.
LIFE OF MARK
Bristow is an action man who loves the bush, big-game hunting and off-road motorbike scrambling despite breaking his back in a motorbike crash in West Africa while CEO of Randgold Resources. To the consternation of Randgold's then major institutional shareholders, Bristow was back on a scrambler just as soon as he was able, commenting that, in future, he would wear bigger body armour.
He's a geologist with a doctorate from Natal University and came to prominence in the early 1990s while working for the former Randgold & Exploration when it was subject to a hostile takeover. The new boss and hatchet man - Peter Flack - was going to fire Bristow but instead was convinced to back him in his exploration drive in West Africa. The rest, as they say, is history.
More Rainmakers & Potstirrers