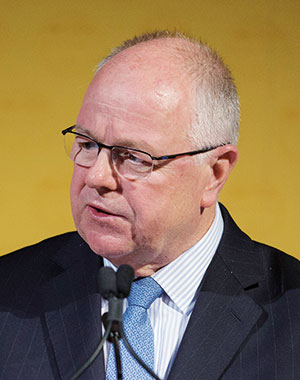 Jeff

Quartermaine
CEO & MD: Perseus Mining
'

'We are working to maintain and exceed 500,000oz/year over the next decade and beyond'
JEFF Quartermaine has achieved remarkable things at Perseus Mining in the past five years. From a single asset, 40,000oz-a-year gold producer in 2017, the company now has 500,000oz/year in annual output to its name. All-in sustaining costs have fallen $100/oz in that time to about $1,000/oz currently. More gold at a higher margin equals cash flow, which is probably why Quartermaine is eyeing the quantum leap from mid-cap status to full-blown major. But buying in ounces of a scale that meaningfully changes Perseus's profile is now a tougher ask, which might explain Quartermaine's rueful attitude to M&A, saying last year it isn't getting any easier to do deals.
This is partly why Perseus turned to greenfields development with last year's A$230m purchase of Orca Gold, which owns the Block 14 gold prospect in Sudan. Quartermaine bristled recently when asked about Sudan's political risk. "I could genuinely say that we've received excellent support from the government," he told one analyst. Nonetheless, new mine development is a delicate business. Quartermaine said the firm would be cautious before making grassroots commitments in Sudan: "If I've learnt nothing else it is that once you make a commitment and start spending money, you certainly lose any leverage you might have in terms of negotiating with local communities and governments." Wise words.
Back at the ranch, Perseus has set about extending the life of its newly developed Yaouré mine in Côte d'Ivoire by delineating 259,000oz of mineable ore underground the current open pit. It also swapped its 39% stake in its Napié prospect in Côte d'Ivoire for a 2.94% equity stake in project partner Mako Gold, which also owns the Koshogo Project, 30km from Barrick Gold's Tongon mine. The remainder of Perseus's production comes from Edikan in Ghana, and Sissingué, its other Côte d'Ivoire mine.
LIFE OF JEFF
One of the mining sector's more eloquent speakers, Quartermaine has an unusual mix of skills, possessing qualifications in both engineering and accounting. He has been using them for some 25 years at various Toronto- and Australian-listed resource companies. Prior to the Perseus merger with Amara, he was CFO of Perseus from 2010 to 2013, after which he was appointed MD.
More Rainmakers & Potstirrers