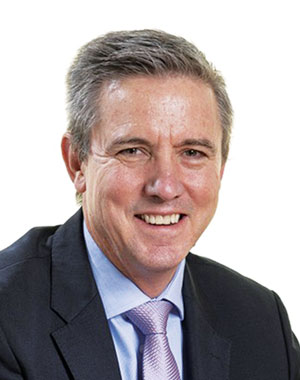 Richard

Duffy
CEO: Petra Diamonds
'The backdrop of structural changes to the supply and demand fundamentals in the diamond market remains unchanged and we anticipate it to remain supportive going forward'
RICHARD Duffy has spoken fulsomely of a structural turnaround in the diamond market, where a prolonged supply deficit has been forecast. He's stuck to that beat despite the US Federal Reserve's hawkish response to inflation, which may crimp diamond purchases in the US - worth half of total global diamond jewellery sales. Duffy even unveiled the prospect of dividends from Petra of up to 35% of adjusted free cash flow. Assuming the dividend is resumed, it would cap an impressive turnaround for Petra given the company narrowly avoided bankruptcy in 2020.
It would also represent a feather in Duffy's cap, as he has walked some hard yards since becoming the firm's CEO in 2019. And more yards to tread, it seems. The partial collapse of a tailings facility at the Williamson mine in Tanzania resulted in the temporary suspension of the operation until about mid-2023. That could put undue pressure on Petra's cash flow, analysts say. Hopefully, Petra can have a parcel of Williamson diamonds worth an estimated $14.8m, impounded by the Tanzanian government in 2017, released. This would relieve the financial pressure on the mine. Duffy must be wondering when the tide will turn at Williamson: the mine has delivered a consistent stream of bad news for Petra.
It was reopened in 2021 after being mothballed in the face of falling prices. Its closure made it a magnet for illegal mining, which was quelled in a violent manner by local security. At least Duffy has taken steps to cut the firm's exposure to Williamson, agreeing with the Tanzanian government to reduce its shareholding in an empowerment deal that sees the government take up some of the slack. Uncertainty still hangs over another Petra asset, the Koffiefontein operation  in South Africa's Free State. Petra intends to shut the mine if it can't find a buyer.
LIFE OF RICHARD
Duffy brings three decades of mining experience to his role at Petra, mostly with the Anglo group, which has produced more than its share of executives who have gone on to other companies. A numbers guy, his previous stints have included being CFO at AngloGold Ashanti. He has a BCom degree from the University of the Witwatersrand - another training ground for mining executives - and an MBA from Henley Management College in the UK.
More Rainmakers & Potstirrers