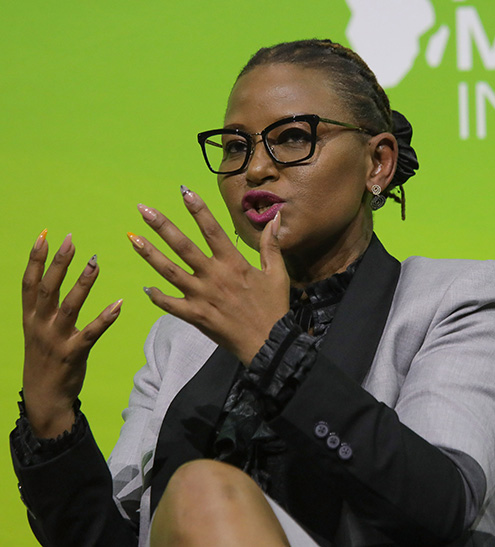 Nombasa

Tsengwa
CEO: Exxaro Resources
'The company's hands are tied in respect of the timing of private-sector investment [in Transnet]. We are all frustrated'
WE said last year that Nombasa Tsengwa was set to occupy one of the hottest hot seats in the South African resources industry. Developments have borne that out. First of all, she got there faster than anticipated when former Exxaro CEO Mxolisi Mgojo decided to pull his retirement forward, so that Tsengwa took up the reins from August last year instead of in May 2023. Then came massive disturbance in the coal sector following the war in Ukraine that has driven coal prices to record highs. Thirdly there's been the meltdown at Transnet Freight Rail (TFR), which has robbed coal exporters of much of the benefit of that price surge.
Finally, the South African mining industry ran into a brick wall of ANC populist ideology when Transnet CEO Portia Derby made it clear that Transnet's strategic priority was to allocate new capacity on its iron ore, coal and manganese lines to emerging black miners "to address the lingering historical imbalances in the economy". The bottom line is that Derby does not want private sector involvement in her business. TFR's performance has been truly abysmal for a string of reasons, with the Richards Bay Coal Terminal exports collapsing from 70 million tons in 2020 to 58.7Mt in 2021. As a result, more export coal is being trucked to Richards Bay and Maputo in Mozambique because, at elevated coal prices, the added cost of trucking over railing does not matter. That will change when coal prices fall back, as they inevitably must.
Meanwhile, Exxaro's strategy of diversifying into production of vanadium, manganese and copper is yet to bear fruit, but the company is said to be in the running for BTE Renewables, a company owned by Actis LLP, which wants $800m for it. If completed, this transaction will meet another prong of Tsengwa's strategy to reduce the company's reliance on coal by transforming into a renewable power supplier.
LIFE OF NOMBASA
Tsengwa is seriously qualified, holding a PhD in agronomy from the University of Maryland and having completed the Executive Development Programme at INSEAD in France. She has also paid her dues at the coal face in Exxaro, which she joined in 2003 as GM for safety, health and environment before moving into operational management in 2010 as GM of Exxaro's tied coal and Mpumalanga operations. Tsengwa was appointed executive head of coal in 2016, which is the most senior job in the group after the CEO because of the importance of coal revenues and profits to Exxaro's livelihood.
More Rainmakers & Potstirrers