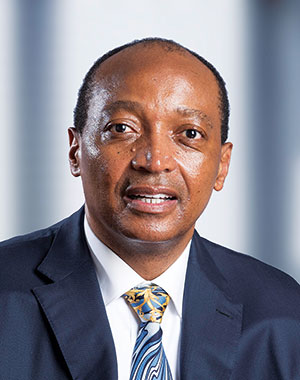 Patrice

Motsepe
Executive Chairman: African Rainbow Minerals
'If you participate in politics you lose the focus, you lose the broader obligation'
PATRICE Motsepe has a major decision to make that will be crucial not only for the overall future of the group but in particular for African Rainbow Minerals' (ARM's) ambitious plans to become a real player in the platinum group metal (PGM) space. That concerns who he is going to appoint to be ARM's next CEO given that the current incumbent – Mike Schmidt (64) - is due to retire. Motsepe is arguably the most successful of South Africa's black mining entrepreneurs.
One reason for that is his considerable skill and insight in choosing an executive team. Schmidt has been running the show since he took over from the previous incumbent, André Wilkens, back in 2012 and he has done as good a job as had Wilkens previously. But what makes the choice of successor particularly important this time round is that Schmidt is 'Mr Platinum' at ARM. His experience could prove crucial in ARM's highly ambitious plans to develop the Bokoni mine it bought from Anglo American Platinum. Added up, the purchase price for Bokoni plus the planned capital expenditure to transform the mine as well as plans to boost output at the group's Two Rivers mine, ARM will be investing a total of R14.5bn in PGMs over the next three years.
But Bokoni is a tough customer – both Anglo American Platinum and Atlatsa failed to make a go of it – so there is some scepticism over ARM's proposed new approach to mine the UG2 reef using mechanised operations. This is where Schmidt comes in. He joined ARM in 2007 from Lonmin, which was then under the leadership of Brad Mills, who failed dismally to mechanise the group's mines. So Schmidt knows what can go wrong with taking this operational approach to certain assets.
LIFE OF PATRICE
Motsepe is a lawyer by training with a BA from the University of Swaziland. He got into mining by founding mining contracting firm Future Mining in 1994 to work on various gold mines then owned by AngloGold Ashanti. That's where he met Wilkens. His rise from there was meteoric, with Future Mining becoming ARMGold, which listed in 2002 and then merged with Harmony and Avmin to create ARM in 2003. Motsepe holds honorary doctorates from four universities, but is best known to South Africans as the president of Mamelodi Sundowns Football Club. He was nominated to stand for the presidency of the ANC but swiftly turned it down.
More Rainmakers & Potstirrers