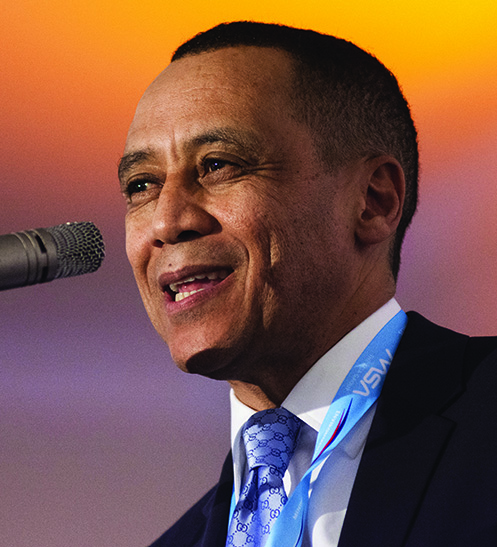 Mike

Teke
CEO: Seriti Resources
'

Seriti is no longer a coal company. We are a diversified energy company'
PERHAPS it's just as well Seriti Resources never went public. When all's said and done, Mike Teke's preference is to get on with business behind closed doors, possibly because at heart, he's a dealmaker. Given the unforeseen increase in seaborne coal prices, it's likely that Seriti might have run unfavourable comparisons to Thungela Resources, which is listed and is predominantly an export business. In contrast, Seriti has a significant fixed-contract business with Eskom, the state-owned power utility.
A breakthrough deal at the time, the purchase of Anglo's domestic business in 2018 came with challenges for Seriti, a largely flat revenue line and the question of how to navigate New Largo's mining plan given that Eskom suddenly found its Kusile power station could no longer use its coal. That's why the purchase by Seriti of South32's export coal production in 2021 was so important to the group. It gives Seriti a valuable 12 million tons a year exposure to sky-high seaborne pricing. Coal producers, however, have a limited shelf life given the global pressure to decarbonise. To this end, Teke unveiled another major transaction in December, which was to invest in African-focused renewable energy company Winlab using shares in subsidiary Seriti Green.
The deal gives effect to Seriti's ambition for 4GW of renewable energy investments worth R75bn. Eskom and Exxaro Resources are partners in the venture. This is a significant departure for Seriti and a major repainting of the organisation. Despite us saying Teke prefers to operate in the background, he participated in a tasty clash with Crispian Olver, executive director of South Africa's Presidential Climate Commission. The two publicly fell out over who had dropped the ball in talks to stem climate change.
LIFE OF MIKE
Teke, a former schoolteacher and human resources executive, worked for mining companies including Impala Platinum and BHP Billiton SA before becoming one of the founding shareholders and CEO of Optimum Coal, which was subsequently sold to Glencore. In 2022 he and co-author Muzi Kuzwayo published This Generation Leads, a compilation of thoughts about leadership from young entrepreneurs. Teke is a former president of the Chamber of Mines.
More Rainmakers & Potstirrers