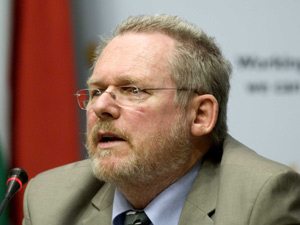 [miningmx.com] – RUSTENBURG in South Africa's North West province may soon be declared a special economic zone for the beneficiation of platinum into units and components of fuel cell technology.
Trade and Industry minister, Rob Davies unveiled the beneficiation plans on the sidelines of the Mining Indaba conference and added that participants in the initiative
would qualify for tax benefits.
"South Africa is home to more than 80% of the world's platinum reserves, but as the demand for platinum is declining we are obliged to find new uses," said Davies. "The frontier industry is fuel cell technology," he said.
"We want to take advantage of the fact that we're not necessarily the first, but an early mover with regard to this technology," said Davies. "The idea is to establish fuel cell technology in South Africa and on continent," he said.
The Department of trade and industry (DTI) is funding a fuel cell project in collaboration with Isondo Precious Metals as a pilot project of the initiative.
The South Africa government was also undertaking a number of feasibility studies with the early results from research demonstrating that there are a lot of potential uses for fuel cell technology, said Davies.
"In Japan, for example, fuel cells are powering small electricity units in households and there's a lot of research going on about the possibilities of using it in vehicles," he said.
"We also find that telecommunications industry is adopting quite a lot of fuel cell-driven power sources in remote areas," he added.
"As South Africa, we're really honing in on two potential uses of fuel cell technology – small power units that can be used to power clinics and schools in remote areas here and on the rest of the continent, as it may be cheaper to use fuel cell technology than connecting to the grid. The potential use is in underground mining vehicles," he said.
Davies also announced an incentive package for potential investors and participants in the future special economic zone.
"There will be an attractive corporate tax incentive, which will be 15% instead of the prevailing 28%. We'll also give tax allowances for investment in greenfield and brownfield projects, and there will be duty-free and VAT-free entry of qualifying imports," he said.
In response to a question from the floor if government would insist on a cost plus model for platinum earmarked for fuel cell technology, Davies said there were on-going discussions with the industry and the Department of Mineral Resources about the pricing structure.
"But I do know we need to have a competitive price for platinum to support local industries. We need to be able to say, come to South Africa to beneficiate platinum because you get a cheaper price for doing so," he said.
Fuel cell technology will enable South Africa to realise its beneficiation objectives, Davies said. "Even if the commodities cycle bounces back the real value chain doesn't lie in digging a resource out of the ground, and exporting it. The real value lies further up the value chain," he said.