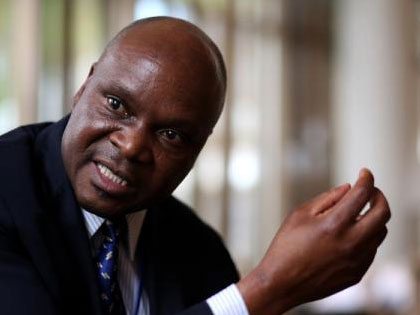 [miningmx.com] – WHILE his African counterparts were trying their best to ensure skittish investors that their regimes were open for business, Zimbabwean Mines and Mining Development Minister, Walter Chidhakwa, demanded that Zimbabweans have their fair share of the mineral wealth within their borders.
"If you're going into the mining sector as a Cecil John Rhodes – rethink your strategy. There needs to be a paradigm shift – a complete departure from the current way of doing things – to a system that accommodate others that have a stake in the minerals of a country," said Chidakwa.
Cecil John Rhodes was a nineteenth century British imperalist and mining magnate who is generally credited with the creation of Northern and Southern Rhodesia known as Zambia and Zimbabwe respectively.
Speaking at the Mining Indaba conference in Cape Town, Chidhakwa was unapologetic about Zimbabwe's indigenisation policy whereby foreign firms operating in the country must hand a 51% shareholding to local partners to reverse imbalances of the past.
"When you look at the balance sheet of a mining company you'll see all the assets and liabilities, but the reserves are also indicated.
"We say the reserves belong to the country and the nation in which mining take place, but companies say we should only also take into account the items above the line," Chidhakwa said.
"But we say no. All the assets, including the minerals as quantified, should be taken into account. He who is bringing the asset to the table ought to have a say and that is the basis of our 51%-shareholding," he said.
Chidhakwa was also critical of the way mining companies 'forgot' that they should partner with their host countries during prosperous times.
"When there is a boom it's useful for companies to share the proceeds with the government and host countries in which they operate.
"This brings about affection when there is a bust. When they then come to the government and say power prices are too high, royalties are too high that particular government understands, because it has been a beneficiary of the mining company during the boom time.
"But that was not the case in Zimbabwe where mining companies forgot they had partners," he said.
Chidhakwa, however, was quick to add that Zimbabwe can't afford to let mining companies go under. "Therefore we are working with them to deal with the (commodities) crisis," he said.
As for the future, Chidhakwa said Zimbabwe needed to start diversifying its mining sector.
"We have more than 60 minerals, but currently only 11 of them are contributing to the national economy.
"We need to diversify our mining sector and do exploration work to mine things like tantalite, lithium and a whole range of other minerals that will bring about more opportunities," he said.