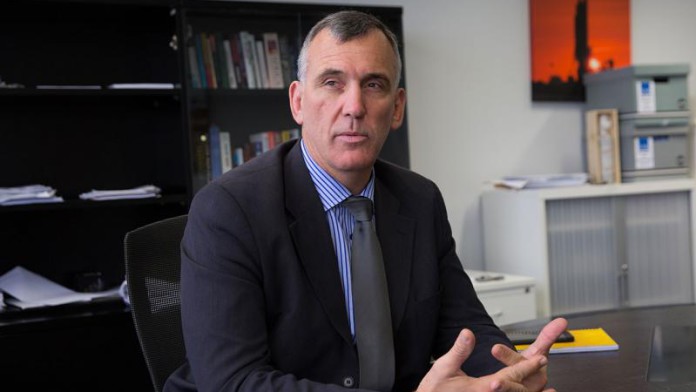 RESOLUTE Mining has a gold production target of 450,000 ounces/year by 2020 by expanding production from existing mines and adding a third, Bibiani, a project in Ghana.
Given the uptick in merger and acquisition activity in west Africa's gold sector, however, the firm's MD, John Welborn, thinks it might just be possible to leapfrog that ambition.
"We want to be a remarkable gold company with production not being the main metric of the company. Yet there is a possibility of rewarding shareholders with scale," said Welborn on the sidelines of the Mining Indaba conference in Cape Town.
"We have good skills-set to run mines of between 100,000 to 300,000 oz/year and we think that we can run six like this instead of three," he said.
Consequently, Welborn said the company is interested in either buying or farming-in to gold juniors in West Africa that are permitted and close to production.
Expanding production in West Africa would also change the look of the company which currently has an asset in Australia – a fact that Welborn acknowledges does raise questions about geographic focus.
In any event, he thinks investment in Africa is ripe. "I think our future is in Africa; I have a lot of long-term faith in its resource and human potential.
"In the seventies and eighties a lot of Australians missed the development in Asia. Back then, they saw the region as post-colonial, corrupt and with little in the way of a trading history [with Australia]". The implication is that there's a danger of missing a similar opportunity in Africa.
Resolute has guided to production of 300,000 oz in its 2017 financial year (ended-June) derived from Ravenswood in Australia, and Mali's Syama – a mine first developed by Randgold Resources. The production growth to 2020 comes from the $95m underground development at Syama, an expansion at Ravenswood estimated to require capital spend of A$134m ($102m) and the $72m development of Bibiani.
Syama underground is fully-funded and there's no major fears that funding of additional production is a problem with some $190m in net cash as of December 31. Resolute had earlier rubbed out over $100m in net debt in just over a year since Welborn was appointed.
There is, though, a dividend policy of 2% of annual gold production which is offered in gold or cash – a factor which is seized upon enthusiastically in recent sell-side analyst reports.  But Welborn said the strategic focus of the company was on capital growth.
"The dividend is an important value statement, but we are a mining company about growth. When we allocated the dividend, it was an indication that we were putting shareholder interests first before others. But this doesn't remove our focus around growth."
Welborn also believes a London listing might see the company better rewarded for its efforts following a disappointing response to gold price weakness which saw the company halve in value in the second half of last year.
The company placed about 76.5 million shares raising A$150m ($115m) with shareholders who thought the gold price was on an never-ending upward trajectory. Roughly half of that lost value has been recovered calendar year-to-date.
"We need to think about who investors are so a London listing might be something we look at. It's something that we definitely want to address," Welborn said.