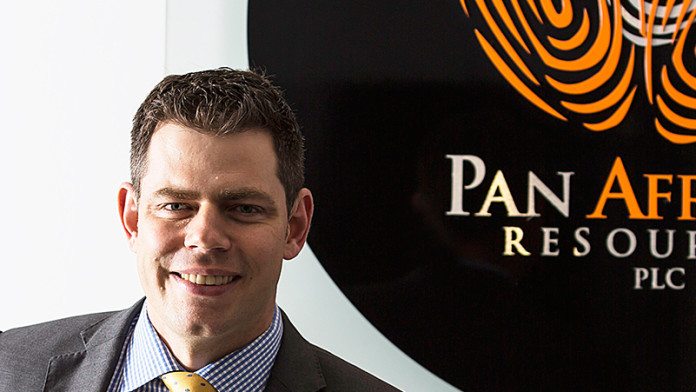 A TOUGH operational year that saw gold production by Pan African Resources (Panaf) retreat by 4.4% to 173 000 oz has seemingly driven a re-evaluation of CEO Cobus Loots' plans to migrate away from higher-cost underground gold mining towards more easily accessible surface resources.
After telling Miningmx in May that he thought the miner was "not likely to acquire any further deep-level South African mines", the company head now appears less opposed to a more equitable underground-surface mining mix.
"I wouldn't say that there is a migration to surface mining," said Loots in an interview in July. "Certainly, if you look at the cost of surface operations, it is significantly lower than what you have on underground mining, but really the sweet spot for us is to have the operations combined".
"Deep level mining requires constant high-level supervision, more management time and is less stable. But we're not saying we're done with deep-level underground mining, as it's a very important portion of our portfolio. Where we can do the surface operation, and it can complement what we have, it makes infinite sense," he said.
Loots' earlier indication that the group planned to focus growth on surface operations seemed plausible after a year of production issues at its Evander Gold Mine (EGM) and Barberton Mines, where production at EGM was stalled as a result of repairs and the miner struggled to access higher-grade orebodies at Barberton.
However, Panaf has certainly not neglected its flagship underground operation, having this year pumped R40m into the re-engineering of two shafts at Evander and recently snipping its workforce to cut costs.
"Underground mining is certainly more difficult, especially if you have deep-level mines, like ourselves, but we're fortunate that our grade and our life-of-mines are very substantial and long. Upgrades at EGM and Barberton were certainly a fantastic success [and have] paved the way for a much larger project, which is Elikhulu and the one we're building at the moment," he said.
WHEELING AND DEALING
The R1.65bn Elikhulu surface tailings retreatment plant is Panaf's current golden child, for which it earlier this year raised R705m through an issue of shares as well as a R1bn debt package with Rand Merchant Bank.
Once completed in the latter half of 2018, Elikhulu would yield 50,000 ounces a year of gold, boosting Panaf's African's production 25% to about 250,000 oz/year. It would also means that some 40% of Pan African's 250,000 oz in yearly gold production would be from surface.
The fact that the book-build programme had been oversubscribed "by multiples" indicated the extent of support for the deal, added Loots. Now a fully-funded project, Panaf is currently progressing Elikhulu's required environmental authorisations, and is on track to produce first gold in the last quarter of 2018.
"One has to accept that isn't an infinite supply of these tailings projects – you require a substantial resource and you require the right mix of infrastructure and metallurgy, so the opportunities for surface tailings are limited," he noted.
Coinciding with Panaf's intensified foray into surface mining was an April announcement that it would offload its 91% stake in KwaZulu-Natal-based coal colliery Uitkomst, to Coal of Africa for R275m.
Panaf bought the operation in 2016 for R118m, citing an economically attractive deal and the need to secure coal reserves amid tenuous state electricity supply. The sale, which concluded in late June, handed the group a tidy R157m in profit, a good portion of which will undoubtedly be used to fund Elikhulu's ramp-up.
Importantly, Panaf's recent transactions had not materially affected its black economic-empowerment rating, which currently stood at 26%.
"The only thing that would see it falling is if we needed more capital, but we have structures in place that would negate that and we'll await the outcome of deliberations around Mining Charter," said Loots.
IN TO AFRICA
Loots, meanwhile, confirmed that the group remained in pursuit of attractive projects elsewhere on the continent, but had no plans to venture further afield.
"Ideally we don't want to go outside of Africa, not only because of our name but simply because we'd have no real competitive advantage. In Africa, there is a relatively level playing field – most developers are South African, Australian or Canadian," he said.
Having ruled greenfields operations, Panaf would look rather to invest in existing operations or projects that had, at least, been advanced to development stage.
"People are not keen to wait between five or seven years for cash flow, so it needs to be something that can start producing in two to three years to meet our return requirements," he said.
Entering into the continental project race has not, however, been without distinctive challenges. Panaf has come up against Toronto & London-listed companies with paper that is far higher rated, rendering the potential deal far more costly for the South African-based miner. In addition, as Panaf's assets are exclusively located in South Africa, the company generally trades at a discount to other African businesses that don't hold exclusively South African assets.
It could, however, find its way around these challenges by persuading shareholders or equity funders to support a cash deal, or by convincing the seller of the merits of accepting South Africa paper.
"The space is very competitive at the moment, particularly in West Africa, and we've looked at a number of opportunities over the last three years. We were close to pulling the trigger on a few of these, and in doing so, we've gained a lot of experience.
"You make your money when you buy something, so if one overpays or you get it wrong in terms of development or operations, then you won't be able to do another one, so we're very cautious," he said.
Loots couldn't say in July whether shareholders could expect a dividend payout in 2017 following "a tough year". The gold price had not been "fantastic" at that point.
"We're fortunate that we have a strong balance sheet, but, in terms of dividends, the board will only make a determination closer to our financial results in September," he said.
Although Pan African's financials are due out later in the year, it disclosed on July 20 that net debt had fallen to R66.7m following the equity raise and that it had available debt facilities of R880.2m.