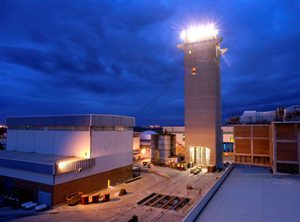 ANGLOGOLD Ashanti may save its loss-making Kopanang, a gold mine west of Johannesburg, from closure after signing a memorandum of understanding (MoU) with an undisclosed party that had lodged one of several unsolicited expressions of interest with the South African gold producer.
The group previously announced on June 28 that it had embarked on a Section 189 restructuring process at its Tau Tona and Kopanang mines potentially affecting 8,500 miners following prolonged unsustainable losses at the mines. AngloGold employs about 28,000 people, including contractors, at its South African mines.
Today's announcement – whilst not yet a sale – could save a portion of those jobs. Stewart Bailey, spokesman for AngloGold Ashanti, declined to name the "selected party".
Said AngloGold in respect on embarking on the Kopanang sale process: "In this regard, an MOU has now been signed with a selected party. This MoU could result in a sale agreement being concluded with the selected party. Organised labour will be consulted as part of the potential sale".
"The Kopanang Mine would no longer be placed on care and maintenance but would continue to operate under the ownership of the selected party," it said.
Employees of Kopanang would also be paid severance benefits even if the sale progressed.
"Whether an agreement to sell the Kopanang Mine is concluded remains uncertain at this time and any such agreement will be conditional upon securing a number of regulatory approvals," the group said.
In the first quarter of its 2017 financial year, the Kopanang mine incurred all-in sustaining costs (AISC) of $2,500/oz while Tau Tona's AISC was $1,700/oz against an average gold price of $1,216/oz. The mine is about 40 years old.
Commenting on the restructuring in June, AngloGold Ashanti CEO, Srinivasan Venkatakrishnan, said it had been "a difficult decision which follows a period of significant and – ultimately – unsustainable losses".
Both operations have sustained heavy losses over the last three years. The restructuring would see AngloGold cut some 250,000 loss-making ounces per year. Some 1.5 million oz in reserves would be affected. "It is critical that we act to protect the long-term sustainability of this business and the majority of our workforce," said Venkatakrishnan.
In a previous version of this article, Miningmx speculated that TauTona might also be subject to a sale given there were expressions of interest from parties. This was Miningmx speculation and at no stage was suggested by the company. As a piece of speculation in an article intended to be reportage, it has since been removed.