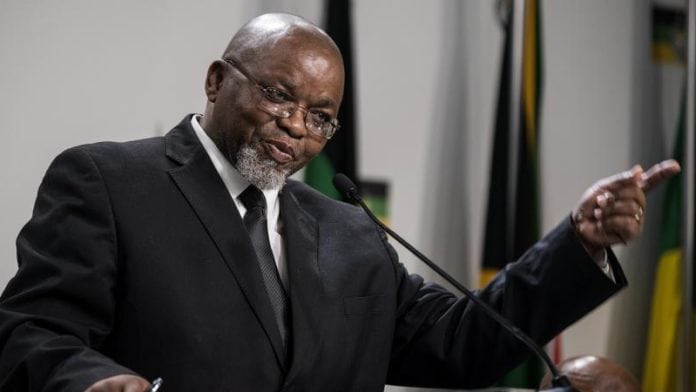 One commentator described South African mines minister, Gwede Mantashe, as "a brawler" on news of his appointment in February. While that may be, what's required in these delicate months of Mining Charter negotiation, however, is finesse, balance and a mindset finely tuned to the South African zeitgeist. This is why Mantashe – a man of contradictions – is perfectly positioned to deliver a new Mining Charter, writes DAVID McKAY.
Sandile Nogxina tells the story of his recall from Mexico where he'd been serving as ambassador since 2012. So urgent was the instruction to return to the Department of Mineral Resources (DMR) that it was left to his wife to do the packing. "She's still there," remarked Nogxina at a mining conference in June, still astonished at the swiftness of it all.
If any minor anecdote is able to express South Africa president, Cyril Ramaphosa's, concern about the tenuous position of the country's mining sector, it might be that he should turn to Nogxina, director-general of the DMR for just over 13 years, and who most represented the spirit of co-operation in which the Mining Charter was first drafted in 2003.
But the thread had been broken, and probably long before Mosebenzi Zwane stepped through the departmental door in 2016 until his sacking in February this year. What was required, one senses, were old hands with an understanding of history and the interplay between the country's society and its mining industry.
Of course, the major appointment had already been made – three months earlier in February – when Ramaphosa unveiled Gwede Mantashe as mines minister. The response from media drifted between shock and no small surprise: that a dyed-in-the-wool Marxist and trenchant unionist should take up the argument of fixing the mining industry tells us all we need to know how desperate and morally bereft the Zwane years had been.
You can see why Ramaphosa turned to Mantashe though. It makes for obvious logic: knowledgeable, a safe pair of hands – perhaps – and passionate:  "If you think that I'm here because it's a deployment, then no. It's an industry I love because it made me," he said to delegates at a recent Mining Charter summit, east of Johannesburg. Quite.
Mantashe, a former chairman of the South African Communist Party, and national chairman of the African National Congress at the time of his latest appointment, was a trade unionist with the National Union of Mineworkers (NUM) for 24 years, having co-founded the organisation with Ramaphosa. He was then Witbank branch chairman. A former miner, he worked through the organisation's ranks becoming secretary-general of the union in 1999 until 2006.
One can't imagine a more different incumbent in the DMR to Zwane, a bureaucrat from the Free State. "Although minister Gwede Mantashe is not the easiest person to work with due to his extremely assertive nature, he is the perfect person to rescue the dysfunctional DMR," said Gideon du Plessis, general secretary of Solidarity, a union.
Reports from inside the DMR describe Mantashe as a contradiction. He's fond of starting meetings with a song; sometimes a workers' song, says Ayanda Shezi, spokeswoman for the department. But she says his "easy-going" nature is punctuated with fits of impatience. "He sometimes gets frustrated by the bureaucracy – why it takes so long to get things done," she says. "He doesn't understand when officials are afraid to talk to him."
Although minister Gwede Mantashe is not the easiest person to work with due to his extremely assertive nature, he is the perfect person to rescue the dysfunctional DMR.
One can understand the reticence of Mantashe's colleagues at the DMR.  Hanging on to a job in the DMR was a question of anonymity and, unfortunately, compliance. During the days of Zwane, the department had a murky, impregnable air. Those identified as potentially obstructive were redeployed; skills and experience were purged.
From an industry perspective, phone calls went unanswered. Mining industry CEOs recall the frustration of trying to secure the various permits and certificates they needed to mine or explore. There was dark business going on in the department's Trevenna offices in service to a script written elsewhere: the marble and gold of a Gupta family Dubai mansion, perhaps?
Certainly, the task of Mantashe must be to primarily install a regulatory regime that is at once predictable and fair. But an equal and unappreciated task will be restoring the DMR itself. Corrupt, largely incompetent, with a minerals administrative cadre that is hardly functioning, it could even be argued this will be the greater challenge.
Mantashe has been questioned for embarking on a province-wide roadshow, principally regarding his redraft of Zwane's Mining Charter. On closer inspection, it would seem that departmental dereliction is both a mining matter, and a broader national problem. The ANC is losing votes because the impression is that it's not working for the electorate anymore.
"I'm in my fourth month here," said Mantashe in July. "Month number four: I've talked and visited all nine provinces, talked to people and it's not sufficient. Engaging people is never sufficient [on its own]".
The grounds of the Johannesburg Country Club gleamed in the winter sunshine. Inside, however, Roger Baxter took up his position at a hastily convened press conference in a state of unreal gloom.
Some R52bn was leaking from the shares of mining companies in the wake of Zwane's Mining Charter redraft which had been long threatened and had now materialised. The Minerals Council was condescended to discuss Zwane's near unilateral Charter decisions at a later meeting – an invitation rejected by Baxter. The Council had not been notified before its gazetting, much less seriously involved in its negotiation. The flight of capital that was taking place was enough to rival the shock of 2002 when investors took once glance at government's then peri-nationalisation plans, and fled.
There was a lot to hold and horrify in Zwane's charter. The first thing that struck one was its derring-do in the sense of its boldness; the brass neck.
One clause in the document was ordering mining companies to pay dividends to black shareholders (including recently naturalised Indians) before it repaid debt. Another asked miners failing the DMR's 26% equity ownership target under its view of 'once-empowered, always-empowered' to sell another 30% of their shares. There were also plans for a new tax collection agency to which increased levels of development and skills levies would be paid. The list went on, subverting numerous Companies Act provisions, the Constitution, and international trading pacts along the way.
The sector was so infected by a trust deficit [that] when you said good morning, you had to go outside and check if the sun was there, or if it was midnight.
Baxter, CEO of the Minerals Council – then still the Chamber of Mines – could hardly contain his astonishment. As journalists sought to piece together the knavery, Baxter and his team set about fighting the battle in the courts. Zwane's Mining Charter was a coup. The Minerals Council later gave it a different term: "egregious", it called it.
With this recent history in mind, it's worth acknowledging just how much has been achieved by Ramaphosa and Mantashe in the brief months since February. While Mantashe's new draft Charter is hardly the finished item, it's at least the fruit of multi-party discussion. What's perhaps sometimes missed is the sense of process. Speaking at the Mining Charter summit, Mantashe said the act of negotiation had been as important as the actual items under discussion.
That's quite right. One has to bear in mind the tightrope all stakeholders are being asked to traverse. Mantashe railed against those who accused him of supporting white monopoly capital. "I haven't been to London in six years," he said. But while "whites won't be driven into the sea", blacks will take control. Remarkably, he called for black capitalists but in the same breath speaks of the class struggle. In the end, his task is social compact and restoration of trust between partners.
"The sector was so infected by a trust deficit [that] when you said good morning, you had to go outside and check if the sun was there, or if it was midnight," he said. He added: "I think over this period, I have seen [people] beginning to understand each other, and the warmth that is growing among people".
Said Mxolisi Mgojo on the sidelines of the Mining Charter summit: "You must remember, this has never been done before. But you can see how complex the issues are."
Delegates at the summit captured every bit of the complexity of the country's mining sector. Community concerns moved far beyond the urgent need to fix mining sector regulations to equally urgent matters of living standards, redistribution and, in some cases, radical calls for the kind of nationalisation the 2004 Mining Charter was intended to mediate.
Mantashe promised to tackle matters outside the Mining Charter debate through the DMR – issues related to the exhumation of burial sites, and the effects of blasting on homes for instance. But the document was not a 'bamba sonke' [skim the cream], he said. For now, however, the aim was to the immediate problem at hand: how to fix the Mining Charter.