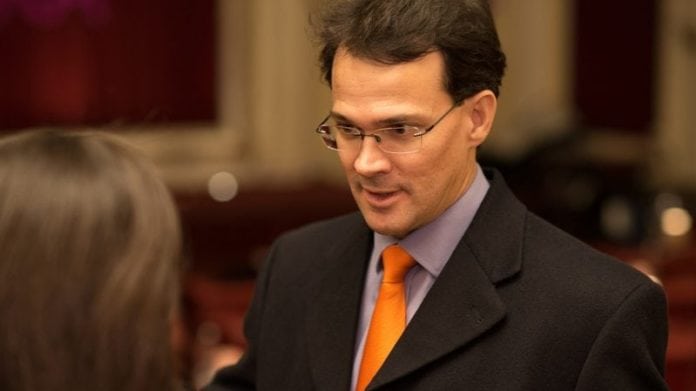 Pallinghurst Resources has undergone a sea change in the last six months, transforming from an investment trust into an operating mining group. It has been renamed Gemfields and is now run by Sean Gilbertson, son of founder and mining industry legend, Brian Gilbertson.
Former CEO, Arne Frandsen, has been 'booted upstairs' to Pallinghurst Capital Partners where his main focus will be to deliver an exit strategy for Sedibelo Platinum. Gemfields holds a 6% stake in Sedibelo which is considered non-core.
In his swan-song statement for the 2017 financial year, Frandsen reviewed his ten years at the helm since the Pallinghurst initial public offering, and declared that "over this decade we have more than quadrupled the size of the company".
He then predicted: "I am confident that the new management team will continue to unlock the value of the company for the benefit of all our shareholders".
That wish will be heartily echoed by the long-suffering minority shareholders in Gemfields, although they may well reject Frandsen's assertion that any value has been unlocked. So far they have reaped few rewards from their investment.
Since it listed, Pallinghurst has yet to pay a dividend while its share price plunged from a high of around R10 in late 2007 to around 230 South African cents in March 2008. Since then, it has oscillated between about 250c and 500c. In early July it was still trading around 250c, a 50% discount to the net asset value of 500c. (Now 222c.share and trading as Gemfields Group in Johannesburg). 
Granted, Pallinghurst listed just in time for a ten-year recession in the commodity markets, but that persistent discount has been an albatross around the neck of Brian Gilbertson during his tenure as chairman. He has vowed several times to take action to remove it, but nothing has happened.
The challenge has now been passed to the younger generation and Sean, in a wide-ranging interview with Miningmx,  acknowledged the problem. His view is that it would still take some time to sort out.
Neither can shareholders expect any dividend largesse from management using the cash flowing into Gemfields as it sells down its stakes in Jupiter and, eventually, Sedibelo.
Gilbertson makes it clear that cash will be used to deal with the debt that was taken on with the acquisition of Gemfields. And one last reality check: Gemfields is not going to be re-listed on the London Stock Exchange anytime soon.
The loss of the London listing was one reason why Pallinghurst faced such bitter opposition from some UK shareholders to the take-over of Gemfields, which was also done at a nil premium. "The old adage is that you should not mix hard rock mining with debt and that applies twice as much to gemstone mining so my first priority is to pay down the debt.
"Our new strategy is also Africa-focused on our main operations in Zambia and Mozambique, so we are very happy to keep our primary listing on the JSE, which is Africa's largest stock exchange," he said.
Brian Gilbertson in his 2017 review referred to "complexities in our structure" which had prevented value "from being fully reflected in the Pallinghurst share price".
Asked whether he thought these complexities had been dealt with through the new Gemfields structure, Gilbertson replied: "I think they have and I believe the value of the company is greater than the current share price but then, I would say that!
"The first complexity was that Pallinghurst was set up as a closed-end investment trust with a ten-year life, which is rather a strange thing and not easy for some investors to get comfortable with.
"We then had a diverse range of investments and I am not necessarily sure that investors could see how all that was going to pan out when you had a ten year investment horizon.
"That ten-year horizon is gone. Gemfields is a perpetual life mining company. We have become an operating company rather than an investment fund which means the company has its own management team on regular service contracts.
"Finally Gemfields is going to focus on gemstones. So that makes us a heck of a lot clearer and much more understandable. I think over the next three or four months, as we settle all of this down, it should become a lot clearer.
"I do think that 50% discount to net asset value will come down over time. If we do not see an improvement by the year-end then I am certainly going to be one depressed fellow.
"We need to get out in front with investors over the next few months because I don't believe many of them have understood the magnitude and nature of the changes that have taken place."
Gemfields' two key assets are the Kagem emerald mine in Zambia and the Montepuez ruby mine in Mozambique.  Gilbertson's strategy is to scale up these operations and reduce operating risk where possible.
He commented: "Generally speaking Montepuez has been turned into a tier one operation, a very significant mine by anybody's standards. We are also building a new sort house with advanced processing techniques to sort the various gemstones. We will be able to categorise the gemstones without anyone being able to put their hands on them.
I keep reminding him [Brian Gilbertson, Sean's father] that it took De Beers around 120 years to build their organisation into what it is today and he keeps telling me he does not have 120 years left so I better get on with it.
"At Kagem, a lot of the historical activity had been based on one pit. The problem is that in gemstone mining you suffer from grade volatility because the gemstones occur in pockets.
"So we are increasing the number of pits at Kagem. We have opened one new one so far.  What that gives us is a diversification of risk on grade and there will be a responsible scaling up of production over time."
On the marketing side, Gilbertson denied rumours that Gemfields wanted to sell Fabergé, its luxury jewellery brand. He commented: "I am not sure where that came from. We have been approached by a number of buyers but we have turned them down. We see a lot of value in the brand although this is a long-term project."
The overall strategy, according to Brian Gilbertson in his last chairman's statement, is to turn Gemfields into "the De Beers of coloured gemstones".
Asked precisely what he meant by that, Sean Gilbertson replied: "It's a visionary and bold statement which I suspect many have come to expect from my father. It has certainly set the hurdle very high and we are gradually working towards that goal.
"I keep reminding him that it took De Beers around 120 years to build their organisation into what it is today and he keeps telling me he does not have 120 years left so I better get on with it. We don't want to control the gemstone markets and have significant market share in order to be able to influence prices. As shown by De Beers' own experience that's not a viable business model.
"We want to improve standards in the industry; provide the capital and skills to scale up our operations ; we also want to take on a degree of responsibility to bring transparency and trust to the industry to allow the consumer to better understand where the gemstones come from and why they can trust them and purchase them."