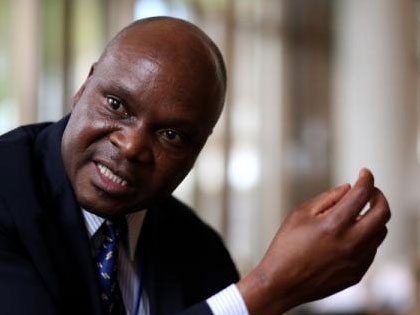 ON May 30, Kuda Mahobele, acting MD of Zimbabwean chrome producer ZimAlloys, took receipt of an unusual parcel. The contents of the parcel, a letter from the government, were not what he expected.
Mines minister, Walter Chidhakwa, who had been negotiating with the country's largest chrome miners to release ground back to government, had confiscated half of the mining claims held by Mahobele's company.
The letter, signed by Mines Permanent Secretary, Francis Gudyanga, read: "Despite repeated efforts to have a common understanding, you have remained evasive with regards to this matter.
"Therefore, we will be giving you up to the 7th of June 2016 to present the claims to be handed over to the Ministry (of Mines) or risk the claims being acquired at our discretion and without notice."
The government had earlier proposed ZimAlloys, as well as its chrome-producing rival, Zimasco, cede at least half of their mining claims to the state in line with government policy to diversify chrome mining industry ownership.
According to Zimbabwean law, mineral rights are vested in the President (Robert Mugabe), while the registration of a person as an approved prospector can be cancelled or suspended on the direction of the minister.
When contacted, Gudyanga refused to comment. "I can't discuss things like that on the phone. I can't talk to you," he said. Additional efforts to solicit a face-to-face meeting failed. Deputy Mines minister Fred Moyo's phone went unanswered.
INDIGENISATION
Analysts say the Zimbabwean government's actions question the underlying rights of the sanctity of property in the mining sector, as well as general investment security. Their concern is that a fresh round of expropriations in the country's minerals sector may have just started.
Movement for Democratic Change Member of Parliament, Eddie Cross, said the recent moves to forfeit 50% of ZimAlloys mineral rights betrayed government lack of seriousness in attracting FDI (foreign direct investment).
"The actions of the state in recent months shows that they are not serious about investment in the mining sector. They have carried out a series of actions in recent weeks which violate the rights of those holding valid mining claims and mineral rights," he said.
Critics believe the government is using cowboy tactics to force companies to achieve its goals when negotiations fail, adding this sends wrong signals to investors.
The consequence is that investors are punishing Zimbabwe for its lack of policy consistency.
Compared to its neighbours, Zimbabwe got a paltry $545m in FDI in 2014 while Mozambique received $4.9bn, nearly nine times more. South Africa received $5.7bn and Zambia $2.4bn. Southern Africa received $10.8bn in FDI in 2014, down 2.4% from 2013.
Zimbabwe ranks 171 out of 189 countries on the latest World Bank Ease of Doing Business index.
The top culprit in repelling investors was the indigenisation policy which compels foreigners to dispose a controlling 51% equity stake of their companies to indigenous Zimbabweans. If that was not bad enough, investors are now asking how far the Zimbabwean government is prepared to go when a disagreement occurs over the transfer of rights.
Gudyanga told a local Zimbabwean weekly newspaper last week that the seizure of the land did not amount to expropriation, but that it was part of government policy to broaden ownership of chrome mining.
Zimasco is said to be holding on to 2,530 claims covering 68,655 hectares of mineral-bearing property, while ZimAlloys holds 1,052 claims covering 39,175 hectares.
ZimAlloys had once offered to release blocks measuring 5,285 hectares to government, and wanted to be allowed to retain the claims targeted for use in future ferrochrome production as indicated in its 50-year mine plan.
Analysts say Chidhakwa's abrasive approach could do more harm to an already struggling mining sector. For its part, ZimAlloys wants the government to compensate for the ground released. Until 2005, ZimAlloys was an Anglo American asset.
DIAMONDS
This is not the first time Chidhakwa has pulled something like this since becoming mines minister in 2013. In February, he cancelled special grants of companies mining diamonds in Chiadzwa.
Prior to the cancellation of mineral rights, Chidhakwa had vigorously been pursuing what industry experts viewed as an "ambitious" plan to have assets merged into a single, state-owned diamond corporation.
He had proposed that merged diamond companies would be a 50% government owned with the remaining equity split among the various mining companies with rights to mine the alluvial diamond fields. Chiadzwa was home to 10 mining companies. Going by that simple approach, each miner would get 5% equity in the merged corporation.
The proposal was criticised largely because it did not take into account individual companies' valuations in determining the equity they would get.
Questions over who would get what in the new company raged. How would the company be valued? What would happen to the various companies' debts in light of the fact that government was broke and could not assume the liabilities?
But Chidhakwa, who was widely seen as a reformer and progressive given his previous private sector experience when he was appointed to President Robert Mugabe's cabinet in 2013, is proving to be one of the most problematic bureaucrats to have occupied the seventh floor of Harare's grand Zimre building.
Another of Gudyanga's letters of apparent expropriation, this time to Anjin Investments, a joint venture of Chinese firm and the country's military, read: "It has come to our attention that Special Grants 4765 and 5247 that were issued to you have since expired.
"Since you no longer hold any title, we do hereby notify you to cease all mining activities with immediate effect and vacate the mining areas covered by Special Grants 4765 and 5247 for diamonds.
"You are being given 90 days within which to remove your equipment and other valuables (22 February to 22 May 2016) and during this period access into the premises will be approved upon request to the ministry".
In effect, mining operations were ordered to cease immediately with Gudyanga alleging that the Special Grant had not been renewed for the past four to five years.
FIGHT BACK
Anjin Investments, however, has refused to lie down.
In High Court papers, Anjin's director Zhang Shibin challenged the order, saying it violated Clause 8 of the Special Grant No. 4765, which provided that the Chinese company would continue to mine as long as is feasible provided inspection fees were paid as provided for in the Mines and Mineral Act Chapter 21:05.
It invested $100m since 2010 "… in the plant and equipment, technology transfer and specialised skills development, infrastructure corporate social responsibility programmes and thousands of jobs have been created as a result of the applicant's investment in the mining area," the company said in court papers.
In its closing argument, Anjin said cancellation of the grants had "… jeopardised its operations and resulted in significant financial harm."
Anjin's sister company, Jinan, a joint venture with the Zimbabwe Mining Development Corporation, stands accused of having externalised $340m.
Externalisation is a serious charge in Zimbabwe and relates to foreign exchange violations on cash movement outside the country.
Analysts see the seizures spreading to platinum as well with Zimplats falling within government's sights. It, too, stands accused of holding huge tracts of land.
Unsurprisingly, a Fraser Institute Annual Survey of Mining Companies also cited corruption by officials, seizure of private assets and indigenisation laws as deterrents to investment in Zimbabwe.