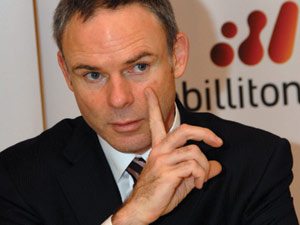 [miningmx.com] – MARIUS Kloppers said he would resign as CEO of BHP Billiton on May 10 and as an executive director after nearly six years at the company. He will be replaced by Andrew Mackenzie, the 56-year old CEO of BHP Billiton's non-ferrous business and one of Kloppers' first appointments.
Jac Nasser, chairman of BHP Billiton, was at pains to point out that Kloppers' resignation was part of a planned succession strategy at the company, an observation made in the context of the recent departures of Cynthia Carroll at Anglo American and Rio Tinto's CEO, Tom Albanese, both levered out amid project implementation and operational problems.
"Our succession planning process has served the company well for over a decade," said Nasser in a statement. "Today's announcement is a result of that planned and considered process," he said. Mackenzie was "the right person" to take up the reins at BHP Billiton, Nasser added.
The resignation of Kloppers was not a surprise as Nasser had said in 2012 that the company had embarked on a two-year process of finding a replacement for Kloppers. Shares in BHP Billiton barely stirred: they were down just under 1% on the Australian Stock Exchange.
Kloppers' resignation was made simultaneously with BHP Billiton's interim results announcement in which the Melbourne-headquartered company posted a attributable profit excluding exceptional items of $5.7bn.
An interim dividend of 57 US cents per share was declared, a 3.6% increase year-on-year in line with the global economy that was "… expected to strengthen over the next 12 months, providing support for commodities demand and pricing," according to BHP Billiton in notes to its interim results announcement.
Unlike its rivals Rio Tinto and Anglo American, BHP Billiton avoided reporting a earnings loss but the results were heavily impacted by "substantially lower prices" during the period.
Including exceptional items, which comprised some $4.28bn in asset impairments, share earnings fell nearly 58% to 79.6c/share. Excluding exceptional items, there was a 43.4% decline in share earnings to 106.8c/share. Net operating cash flow nearly halved to $6.4bn in the 2013 interim period compared to the half-year figures in the 2012 financial year.
Kloppers said it was "never going to be easy" deciding when to retire, but he had spent nearly 20 years at BHP Billiton of which 12 years were as a senior executive and nearly six years as CEO.
"One of the first decisions I made when I became CEO was to bring Andrew into BHP Billiton, and I look forward to working closely with him, the board and the management team during the transition,' Kloppers said.
OUTLOOK
BHP Billiton sounded a positive note for the remainder of its financial year and the first six months of its 2014 financial year saying the global economy was expected to strengthen. "The longer term outlook remains robust, although supply is now better placed to keep pace with demand for some commodities," it said.
However, low cost supply in certain markets would "dampen" pricing upside of many commodities including iron ore. Substantial new supply from the low cost basis of the Pilbara in western Australian was one, it said.
Similarly, rising metallurgical coal demand was likely to be met by supply from the low cost, high quality basins, while overcapacity in the aluminium and nickel industries was likely to persist for the foreseeable future, BHP Billiton said.
The outlook for copper was better. Supply growth in the near term would result in "a more balanced market" but in the longer term the price would be supported by capital and operating cost pressures, grade declines and a scarcity of growth projects.