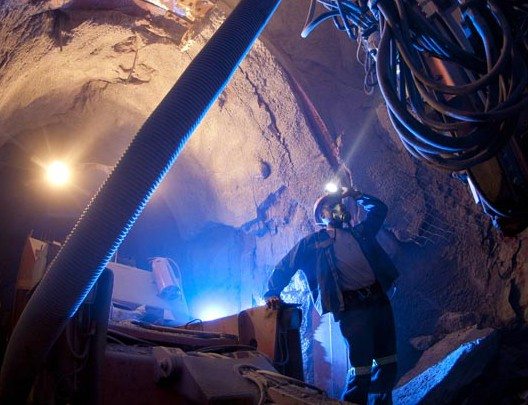 MASTER Drilling expected to conclude an acquisition before the end of its current financial year that will open up the open-cast mine drilling market in South America, said the R2.3bn company's CFO, Andre van Deventer.
"It's a drilling company that more or less does what we did at Kolomela (Kumba Iron Ore). It's an easy add-on type of business with some very nice margins," said Van Deventer.
Master Drilling derives most of its business from underground mines where it has specialised in raise bore drilling using technology manufactured at its Fochville premises near Potschefstroom, west of Johannesburg. The company is diversified geographically – about 55% of its revenue in the first half of its 2017 financial year was earned in the Americas – but it is now seeking to build its technological reach.
For instance, Danie Pretorius, CEO of Master Drilling, said the company wanted to have 30% of the business derived from the civil and construction sector in which it would provide drilling technology to specific water tunnelling and sewage project work. "But we'll take baby, baby steps," he said, warning that the company did not fully understand the sector.
The acquisition of the open cast drilling company was on a par with the 2016 purchase of a 40% stake in Bergteamet Raise Boring Europe, a Swedish company that Master Drilling hoped would give it access to the European market. (It has also bought the assets and team at Bergteamet's Latin American business where it derives about 59% of its revenue.)
Pretorius said today, however, that the company would be "extremely lucky" to reach breakeven at Bergteamet in the current financial year given that the machine utilisation rate was only at about 30%. "We've seen in the last couple of months that things have turned around a bit and so the outlook for next financial year (2018) is that the business will be in a much better space," he said of Bergteamet.
Pretorius was commenting during a presentation of Master Drilling's 2017 interim results in which headline share earnings in rand terms were 10.7% lower year-on-year at some 87 cents. This was largely owing to the strengthening of the rand against the dollar which 'cost' the company about $4m in currency losses. Roughly a fifth of Master Drilling's income is in rands, but 40% of costs are rand denominated.
In dollar terms, headline earnings increased 4.8% to 6.6 US cents per share. "Following the maiden dividend for 2016, the dividend will only be considered at year-end," said Master Drilling in notes to its published results.
Cash on hand increased to R37.7m from R20m at beginning of period which Pretorius said was enough to help it pay for any potential acquisitions or expansion of the business. Shares in the company, which is not very liquid, were marginally down on the Johannesburg Stock Exchange an hour before market close.
Despite an improvement in the commodity market, Pretorius said mining firms required "a bit of confidence" before committing to long-term contracts of more than about 18 months. "We were very lucky previously in that our Kibali (Randgold Resources and AngloGold Ashanti contract) and Kolomela were three- to five-year contracts, said Pretorius.
"We are getting a lot of short term contracts and we need to move equipment from one mine to another at the moment," said Pretorius. "It's the influence of the pressure miners have been under.
"They need a bit of confidence to make sure that commodities are sustainable at these levels. When that happens, we will go to three- and five year contracts. Our machine utilisation was about 70% in the first half. We would prefer 75% but it is likely to hover at that level in the second half," he said.