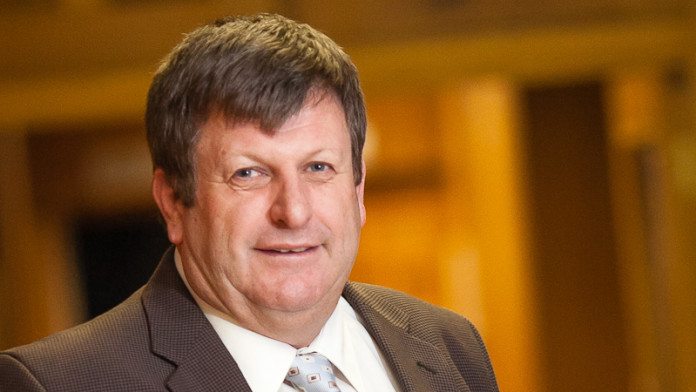 HARMONY Gold's plan to up its yearly production to 1.5 million ounces by 2019 could see the further consolidation of South African gold assets as gold producers shed assets that are no longer able to contend with lagging gold prices and escalating operating costs.
Pointing to Harmony's healthy track record of acquisitions – 27 since 1995 – CEO Peter Steenkamp told the media on Thursday that he "believed" in local consolidation, and that the absorption of further local assets into a portfolio as varied as Harmony's was likely.
Harmony bought full ownership of Hidden Valley mine which was expected to add 180,000 oz to Harmony's 1.5 million oz output target, in October 2016. The recent completion of the Central Plant reclamation project had added an additional 15,000 oz a year, while Steenkamp noted that the unlocking of Golpu, in Papua New Guinea (PNG), would see the inclusion of further ounces.
"As Harmony, we like South Africa, and we think of it as a friendly place to invest. I believe in local consolidation and we operate well in South Africa and have been successful for many years because we have the knowledge and the appropriate cost structures.
"We still believe that we can operate well in South Africa. Things evolve over time and we have to go where the orebodies are. We're happy to be here and invest in SA," he said.
Steenkamp would not be drawn on rumours that Harmony was in talks over possibly picking up AngloGold's local mines but conceded that the company was in discussions with various partners over the boosting of its mines portfolio. However, he did not restrict potential acquisitions to South Africa, saying that he was "most impressed" with the mining regulation system in PNG.
"Companies there are issued with 40- to 50-year mining licences by the government. We need a similar system in South Africa. The consolidation of the gold mining industry has worked very well, but in South Africa we need policy certainty. If we had more reliable regulations, more projects would be taken through," he said.
Steenkamp's comments followed the release of the company's full-year results for the year ended June 30, 2017 in which it declared a final dividend of 35 South African cents that lifted the overall yearly dividend payout by 70% year-year. It posted a 35% increase in headline earnings per share of 298 cents for the twelve months, while managing a 18% reduction in net debt to R887m.
DAMPENED RECEPTION
Analysts were generally negatively critical of Harmony's full-year results showing, especially the company's creeping operational costs. All-in-sustaining costs (AISC) increased 18% year-on-year to $1,182/oz on the back of rising labour costs, inflationary increases in consumables and contractors, and the inclusion of 100% of Hidden Valley's costs.
Citibank noted that Harmony's favourable rand hedges, which had a significant positive impact on the 2016 and 2017 results, had now expired. "This, together with our expectations of increasing unit costs and higher capital expenditure, will likely reduce free cash flow sharply. We maintain it on Sell/High Risk," it said.
JPMorgan Cazenove said Harmony's results reflected disappointing second-half production and higher costs, largely reflecting a weak third quarter. Moreover, the company's mines faced a structural production decline at the current gold prices and exchange rate.
From a headline earnings perspective, there was also the matter of some R1.7bn worth in impairments and a R917m provision for a silicosis lawsuit.
According to Steenkamp, however, improved mining efficiency would likely be realised through increased mining mechanisation. While acknowledging that "not all mines" could be fully mechanised, he said that the company was currently working with the Department of Trade and Industry to fund technology that would allow it to mine deeper orebodies.
"Technology will continually be developed and we need to adapt to accommodate this technology. There's a huge push from the industry and we believe that in five to ten years the industry will look very different," he said.