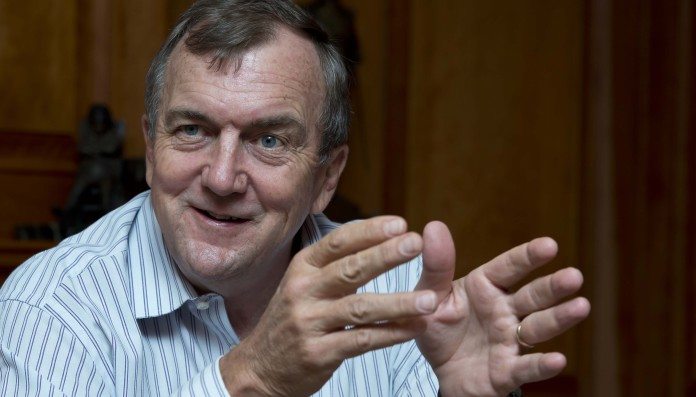 MARK Bristow is something of the arch iconoclast. He thinks, for instance, that the gold industry establishment is "a club", and he derives a certain joy from poking the 'larger' gold miners in the eye (although he robustly denies this).
"Remember, this is a competitive environment and I am attracting investors and it doesn't do me any good to be aligned with a club whose single purpose is to destroy value," he said of the gold industry's track-record, especially in the past five years.
"And it's clubs. Everyone is making clubs; everyone wants another club here and another club there." He decries the industry's history of negative returns and production growth at all costs.
"When their paper became too cheap, they borrowed to continue more growth," he said of the period during the 10-year gold bull run, from about 2001, when bullion gained an astonishing $1,500 per ounce to top out at $1,800 in mid-2011. During that time, industry net debt increased to $47bn from $1bn.
The fact of the matter, however, is that Randgold Resources, the company he helped establish in 1990 and over which he's held sway since 1994, is an outlier in the world's gold industry. Consistently profitable and cash generating, the company's share price has out-performed all-comers in its sector. In the last five years, the stock easily out-performs Barrick Gold, Newmont Mining and Gold Fields to name a few.
One of the questions frequently sent his way these days, however, is how long he can continue? At 57 years, Bristow is the second longest serving CEO of a company, in any sector, listed on the London Stock Exchange.
Everyone is making clubs; everyone wants another club here and another club there
That kind of longevity may please investors but it worries them too: they worry if Bristow's one-off ability, the entrepreneur's golden touch, can be replicated, no matter the succession plan.
Naturally, Bristow disagrees. The future success of Randgold lies in the DNA of the company rather than with a certain individual, he said in an interview.
"One of my big challenges is succession and we're dealing with it and we've been working on it aggressively. I reckon you've got to protect the DNA because the worst enemies of a company are often its board and the newbie that arrives from the outside. When you look at disasters in succession it has been exactly both of those [the board and hiring an outsider]."
He doesn't believe in anointing a single potential successor owing to the increasing amount of change in the industry but he does think developing an executive committee consisting of many varied skills is a good idea. "You don't need a miner; you don't need a knuckle brain as we call it. You need a guy who knows how to operate businesses," he said.
"I'm 57. I don't want to overstay my welcome. I'm very mindful of that. I've been here for a long time," he said.
Bristow doesn't have particular corporate targets or goals in mind before hanging up his boots, although he has spoken about exploring and building one final large mine. Instead, he wants to establish Randgold's reputation for paying dividends, an outcome which he believes is likely given the way the gold market is moving.
"The most exciting thing about Randgold for me is we set out many years ago to build a profitable gold company and now my big challenge is convincing the market that I'm distributing dividends not because I've got nothing to do, but because the cash is in excess of what we need to continue to grow," he said.
PREMIUM STOCK
The investment market has long thought that Randgold is an expensive share, although the conversation is shifting towards accepting it as "a premium stock" owing to its ability to keep turning out strong results. Even with a relatively poor first quarter, in which production fell, the company generated $40m in free cash.
"Randgold remains one of the most defensive and best positioned gold companies globally in our view," said Credit Suisse in a report earlier this year. "The company's all-in cost position at the end of 2015 was $750/oz and we expect this to reduce to $700/oz through 2016," it said.
Set this against what Bristow thinks might happen in the gold market, and there's a real prospect the company will pay both dividends – it recently announced a progressive dividend policy – and be able to pay for its next major mine development without recourse to debt.
"I don't have a specific target," Bristow said of the company's short-term prospects, but he does think there's a huge opportunity coming. "I believe all the stars are aligned for another bull market. Not as aggressive I think as we saw in 2005 to 2011, but a steady improvement.
"So I think that on its own is a huge opportunity for us because we run assets at much lower gold prices, and you've seen in quarter one where we had a pretty tough quarter operationally, our financials were still great," he said.
Said BMO Capital Markets: "The stock offers appeal for above average asset quality providing sustainable production levels, a solid debt-free balance sheet, meaningful free cash flow to support dividend growth, potential to deliver further value through greenfield exploration programmes, and a management team with a proven track record of prudent capital allocation".
Speaking in March, Bristow identified Côte d'Ivoire as the country where the firm's best exploration targets lay, including the Gbongogo target which consists of a 400 metre strike more than 100m wide.
The grade of the prospect was between 1.5 and 2 grams per tonne. "It is rather reminiscent of Morila in its early days," he said of Gbongogo referencing one of Randgold's most successful gold exploration discoveries in Mali.
"We know there is a big system there, but we now need to determine its geometry," he said. There was also the possibility of establishing a super-pit at Gounkoto in Mali where a feasibility study of an underground mine, increasing the reserve to one million ounces, was underway.
When Bristow presses the button on the next big mine he hopes to have a $500m cash 'cushion' in the bank to finance it and continue paying dividends.
"So if we find, just give you the example, another Tongon, it will cost us $350m to $400m to build. We'll have that in the bank and I'm still throwing off $350m a year in cash. Imagine the mining industry if they paid dividends instead of wasting it over the super cycle?"