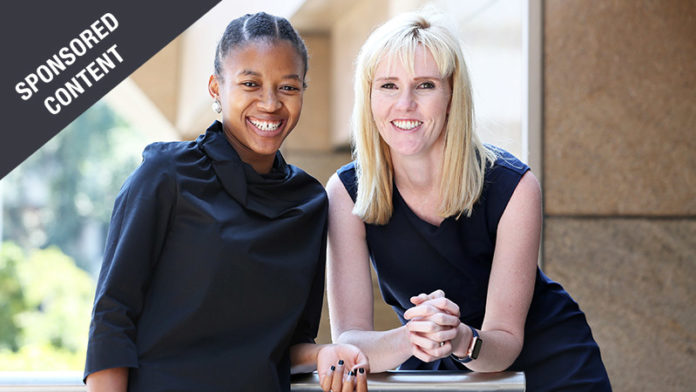 Mozambique is no stranger to mega-projects with large foreign direct investments dating back to the 90's. Mozambique, through its National Oil Company, has again partnered with International Oil Companies for the development of gas resources discovered in offshore Mozambique. RMB's Oil and Gas Finance team acted as a co-funder to the US$4.87-bn project financing of the Coral Sul "South" Floating Liquefied Natural Gas (FLNG) unit – the world's first ultra-deep water FLNG unit off the coast of Mozambique.
Gaby Armstrong and Khanyisile Moshoeshoe, Transactors from RMB's Oil and Gas Finance team, were involved in the landmark transaction and share their responses to a few generally asked questions.
What exactly is natural gas and what is it used for?
GA/KM: "Natural gas or fossil fuel is a mixture of combustible gases formed underground by the decomposition of organic plant and animal materials. In the case of the Coral South Project, huge deposits of natural gas were found at around 2,000m water depth, 80 kilometers off the coast of Mozambique."
And Liquefied Natural Gas (LNG)?
GA/KM: "It is natural gas that has been cooled to the point where it turns into a liquid state. The Coral Sul FLNG unit is a special state-of-the-art Floating LNG vessel which is designed to operate offshore in around 2,000 water depth cooling the natural gas of the Coral reservoir to -260 degrees Fahrenheit, making it around 600 times smaller than its volume as a gas. This dramatic reduction allows it to be shipped safely and efficiently via tankers from where it is heated again and ready for consumption. LNG is primarily used for electricity generation, although it may also be used in cooking, heating and other industrial uses."
Who commissioned the Coral Sul "South" FLNG and where will it be located?
GA/KM: "The Coral South Project is being developed by the Area 4 Joint Venture "JV", a partnership of global oil and gas players led by Italian energy company Eni and including US based ExxonMobil, Korea Gas Corporation, the Portuguese integrated energy company, Galp, the China National Petroleum Corporation and the Mozambican national oil company, Empresa Nacional de Hidrocarbonetos, E.P. (ENH). The Coral South Project will be the first project exploiting the enormous gas reservoirs of the Rovuma basin and the Area 4 offshore block discovered by Eni in offshore northern Mozambique."
Who is constructing the Coral Sul FLNG?
GA/KM: "The project is currently in its construction phase. The Coral Sul FLNG facility is being built by a consortium of companies involving TechnipFMC, JGC Corporation and Samsung Heavy Industries. On completion, the FLNG will be towed from South Korea to the Coral South site off the coast of Mozambique and permanently fixed to the seabed by way of a turret mooring system."
How is LNG transported?
GA/KM: "Once the FLNG unit has liquefied the gas, it is then offloaded on to tankers and sold under a long term LNG sales and purchase agreement with BP. The LNG is then transported to its final destination, where it is returned to its gaseous state through a process called regasification. It is then delivered to the natural gas customers through local pipelines."
This was the first project finance ever arranged in the world for a floating liquefaction plant and a first for RMB. What expertise and value did RMB bring to the table? How big is RMB's Oil and Gas deal footprint?
GA/KM: "Due to RMB's experience on large project finance transactions in Mozambique and in other oil and gas jurisdictions across the African continent, RMB was able to enter into this transaction to assist Coral's shareholders in increasing the commercial bank leverage. We also demonstrated to the Area 4 partners that RMB has the capacity to put down sizeable commitments for projects in Africa. RMB has a well-established Oil & Gas footprint in West Africa, and this deal allows us to expand this footprint to East Africa. RMB has the desire to significantly grow its Oil & Gas portfolio and the ability to deliver sizeable commitments going forward, which will allow us to continue supporting oil and gas companies looking to develop their projects across the African continent
Please explain the nature of the financing package that RMB participated in more detail.
GA/KM: "The total debt package for the Coral Sul FLNG project, following RMB's entry, will be $4.87bn. It is a highly structured project finance facility that comprises of multiple debt facilities, which are split between ECA covered and direct facilities provided by various export credit agencies and an uncovered commercial bank tranche. The debt facilities will cover the initial construction period and will be repaid in approximately 15 years from now."
What other banks and agencies were involved in the deal?
GA/KM: "The financing agreement has been subscribed by more than 20 major commercial banks and covered by 5 Export Credit Agencies. RMB is one of only 2 African banks who have participated in the uncovered commercial bank tranche."
Is LNG better than coal?
GA/KM: "Research indicates that burning LNG produces lower carbon dioxide emissions than black coal.  It is therefore considered to be a "bridging" fuel in the transition to a lower carbon economy."
When will the unit be fully operational?
GA/KM: "It is expected to start production in 2022. On completion, the Coral Sul FLNG will be equipped with leading edge but well proven technology applying the highest safety standards for on-board personnel and minimizing any possible environmental impact.
How will Mozambique and neighbouring countries like South Africa benefit?
GA/KM: "The size, quality and position of the field's resources are set to transform Mozambique's economy through the creation of new revenue streams for the Government. In time, through the development of further LNG projects, there should also be significant job creation, investment in infrastructure and increased domestic gas supply. In the medium to long-term, Mozambique´s geographic location and established logistics infrastructures, coupled with downstream developments, will strengthen Mozambique´s capabilities to supply to its landlocked neighbors with gas as an alternative source, or wire through power supply, including products from petrochemicals. South Africa stands to benefit the most given its sizeable market potential and technological development, which create the foundation for sustainable and commercially viable large-sized capital ventures.