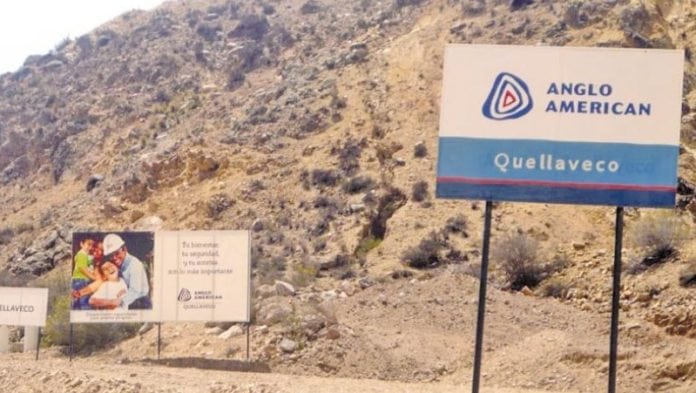 ANGLO American was likely to give the green light to its Quellaveco copper project at its interim results presentation, scheduled for July 26, said Goldman Sachs.
Commenting in a preview of Anglo's results, the bank said an interesting number to look out for would be the capital expenditure (capex) on the project. The last estimation in 2010 was capex of $4.8bn, but this may increase to $6bn owing to project inflation. Quellaveco is expected to have a nameplate capacity in the range of 250,000 tonnes of copper a year.
A feature of recent interim results announcements from Anglo American Platinum and Kumba Iron Ore, two Johannesburg-listed companies in which Anglo owns the majority of shares, is the payment of healthy dividends. This would raise the possibility of much-improved shareholder returns from Anglo American as well.
The group's net debt position was also tipped to have improved while capex elsewhere in the group was not substantial. The recent deal in which Anglo sold a further 21.9% in the project to partner Mitsubishi for $600m sees the Japanese fund near-term project expenditure and create "optionality" around Anglo's incremental shareholder returns. Mitsubishi now owns 40% of Quellaveco.
"We see the net debt to EBITDA as of FY18 being at 0.3x.," the bank said of Anglo's. "We expect the company to lay out its capital allocation policy given the significant cash generation and lack of any meaningful capex ramp-up," it said.
"After the strong dividend announcement by Kumba (implying an annual divi yield of 10%), expectations of Anglo's dividend will have likely increased. We forecast a dividend of c. USc61/shr – c. 7% ahead of consensus," said Goldman Sachs. "While this is ahead of the company policy, we believe given the strong balance sheet (net debt ¬US$3.9bn) and lack of any tangible capex spend in 2018, Anglo would look to ramp investor returns up."
RBC Capital Markets currently has an 'out perform' recommendation on Anglo American, saying that the improvement in its net debt position was an attractive aspect of the business for investors.
"As the international net debt position continues to unwind and with the launch of Quellaveco driving growth; aside from what we see as positive potential catalysts from releasing value via an alteration of the corporate structure, we expect investors to continue to migrate towards Anglo American," it said in a recent report.
Anglo's prospects are also likely to be lifted by a positive turn in the diamond market. De Beers, in which Anglo has an 85% stake, could register an improvement in rough sales for the fullyear to $5.9bn from $5.2bn previously, according to another bank. That's because sales in 2017 carried a higher proportion of lower quality, lower priced stones.
Positive momentum in the diamond market was underlined recently after De Beers reported fifth sight of the year sales of $575m, a 6.3% year-on-year increase and some 3.8% higher than in the fourth sight of the year. The cumulative year-to-date sight value of 2018 is $2.89bn, slightly down year-on-year but with sentiment improving in the diamond market.