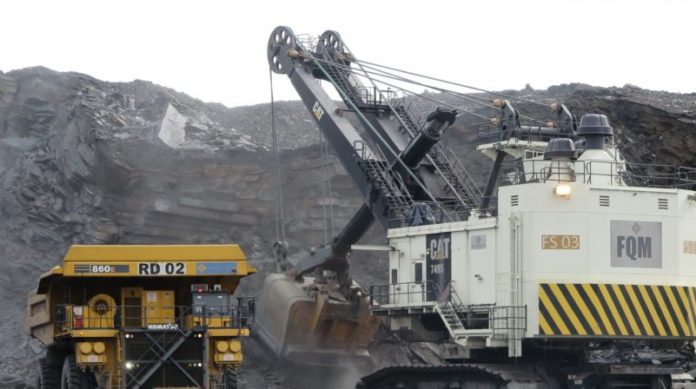 FIRST Quantum Minerals confirmed an investment in the company had been made by Jiangxi Copper Company. Speculation this had happened sent shares in the Toronto-listed company nearly 11% higher today.
"First Quantum Minerals acknowledges the announcement by Pangaea Investment Management (PIM) regarding its beneficial ownership of shares in the company," First Quantum said in a statement.
PIM is an associate of Jiangxi Copper Company which is a substantial non-controlling shareholder of and lender to PIM.
Said First Quantum: " As previously announced the company has in recent months been in discussions with Jiangxi Copper regarding a possible investment in the Zambian assets of the Company. There can be no certainty that any transaction will proceed".
Shares in the company rose as much as 17% during the day after PIM said it had bought six million more shares in First Quantum taking its stake to 74.64 million shares, equal to 10.8% in the company.
PIM has also entered into a forward contract through which it may choose to buy another 40 million shares, said Reuters.
First Quantum confirmed in September it was discussing a "potential sale of a minority interest" in its Zambian copper assets. However, it was not involved in discussions that could lead to a change of control or a takeover, and had no knowledge of any potential takeover bids, it said.
First Quantum controls the open pit Kansanshi mine in Zambia, which has 340,000 tons of annual copper production capacity. It also owns the Sentinel copper operation, also in Zambia as well as Las Cruces in Spain and the Ravensthorpe nickel mine which is situated in Western Australia.
First Quantum has been at loggerheads with the Zambian government over issues from royalty increases to the planned introduction of a sales tax. Earlier this year, First Quantum decided not to retrench 2,500 employees at its Zambian facilities following its failure to dissuade the government from imposing the new tariffs.
Earlier this week, Chinese firms were connected in takeover talks with Barrick Gold for its Lumwana copper/gold mine in Zambia.
China Minmetals Corporation, Jiangxi Copper Company and Zijin Mining Group Company were among companies considering bids for the mine that could fetch about $1bn, according to a report by Bloomberg News citing people with knowledge of the matter.
China Molybdenum Company and Aluminum Corporation of China, known as Chinalco, were also invited to bid, the newswire said.
Barrick was working with advisers to solicit interest for the Lumwana mine. The Toronto-based miner continues to target $1.5bn of asset sales by the end of 2020, CEO Mark Bristow said in August.