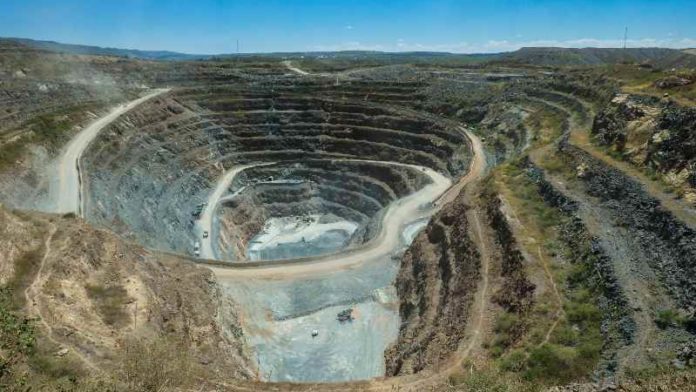 LOWER output at Tanzania's North Mara resulted in an undershoot of third quarter gold production for Barrick Gold, the Canadian miner.
All in all, gold production for the third quarter totalled 1.31 million ounces, lower than the second quarter's 1.35 million ounces, while copper output rose 14.4% to 111 million pounds, the company said.
Operations at the Canadian company's North Mara mine were hit by tax and environmental disputes. Restrictions on production at North Mara were lifted in September after Barrick addressed concerns about seepage at the tailings storage facility.
North Mara was previously operated by Acacia Mining. Barrick took full control of the miner after a British court approved its $1.2bn takeover.
Barrick's third quarter production was boosted by the performance of its Nevada Gold Mines joint venture with Newmont Goldcorp Corporation. Barrick estimated it produced about 535,000 oz of gold in the quarter.
Another African asset, the Loulo-Gounkoto complex in Mali, also helped boost Barrick's overall gold production which the group said was "trending" towards the upper end of full year guidance, put at some 5.1 to 5.6 million oz.
Barrick beat estimates for copper output, driven by higher production at the Lumwana mine in Zambia which it is rumoured to want to sell to one of a slew of Chinese suitors. Zambia's proposed new mining taxes would make it challenging to generate adequate returns, the company has said in the past.
Earlier this week, Chinese firms were connected in takeover talks with Barrick Gold for its Lumwana copper/gold mine in Zambia.
China Minmetals Corporation, Jiangxi Copper Company and Zijin Mining Group Company were among companies considering bids for the mine that could fetch about $1bn, according to a report by Bloomberg News citing people with knowledge of the matter.
China Molybdenum Company and Aluminum Corporation of China, known as Chinalco, were also invited to bid, the newswire said.
Barrick was working with advisers to solicit interest for the Lumwana mine. The Toronto-based miner continues to target $1.5bn of asset sales by the end of 2020, CEO Mark Bristow said in August.