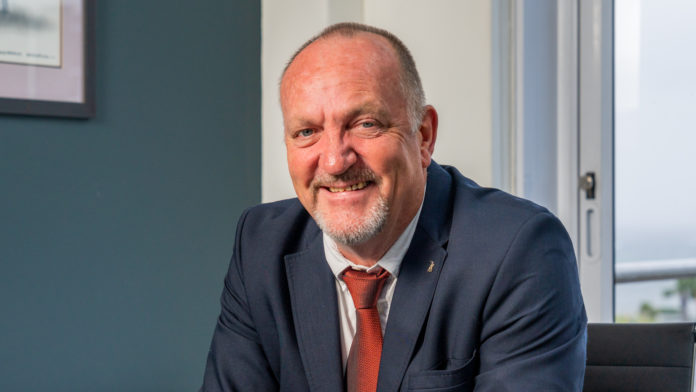 COPPER mining in the Northern Cape shut down in the early 2000s when the former Gold Fields of South Africa finally closed the Okiep mine. It's back with a vengeance, however, with Orion Minerals CEO Errol Smart declaring the region to be "a major mining province" and "a dripping roast".
Australia and JSE-listed Orion are carrying out extensive exploration work in the region, looking at reopening the former Prieska and Okiep Copper Mines. Orion raised A$25m (R294m) through issuing equity that will fund the company through to an investment decision on Prieska, which is scoped to produce 20,000 tons of copper and 70,000t of zinc annually.
Smart's assessment is backed up by Jan Nelson, CEO of soon-to-be-listed Big Tree Copper, which started production as a small-scale copper project treating dump material in the Okiep region in October last year.
That operation is being expanded with the construction of a full-blown SX-EW recovery plant that is due to start operations in July and reach a steady-state production level of 160t/month of copper cathode within three months.
Nelson – who is well-known in South African mining circles from his time running gold junior Pan African Resources – commented: "We are offering South African investors the chance to buy into a pure copper play, which will come into production immediately. We will be cash flow positive from month two and we have no debt."
He added: "That's one of the big differences between us and Orion because they are at least two years from starting production. The other is that we are a dump retreatment operation while they will be mining underground."
Nelson is "gung ho" over prospects for copper mining in the Northern Cape, commenting: "If this region were located in Canada or Australia instead of South Africa, there would be 100 junior explorers operating here and not just four of us, as at present."
The main reason for the lack of interest appears to be the negative impact on foreign investors of the South African government's vague and vacillating approach to the country's mining legislation and, in particular, black economic empowerment requirements.
Nelson plays that down, saying it's inconsequential compared to the huge benefits of operating in the Northern Cape compared to, for example, the Democratic Republic of Congo (DRC), of which first and foremost is the excellent infrastructure available in the region.
"South Africa is great. I am a big fan of [Ivanhoe Mines CEO] Robert Friedland but, from where I sit, a copper deposit grading 2.5% in the Northern Cape is the equivalent of one grading 4% in the DRC, where there is limited infrastructure. Despite the issues with Eskom, we have power, we have roads, and we have skilled labour. The skills we needed to build our plant were all available in the Northern Cape."
High hopes
Nelson got into Big Tree Copper via a Canadian-listed junior – Handa Mining – which has an 18% stake in the new producer. However, the pioneer of the resurgent copper mining boom is local entrepreneur Shirley Hayes, who holds a 16% stake through her operation, Shirley Hayes-IPK (Ship).
But that stake is just one part of the copper mining business she has put together in the Northern Cape, where she acquired the prospecting rights to the Concordia project in 2009.
Hayes was born in Springbok and matriculated from the nearby town of Pofadder and is passionate about her Northern Cape roots. She comments: "I knew I was sitting on a copper hot spot right from the beginning, in 2009. It is very nice to be in the position I am in now after more than 10 years of risk-taking."
Hayes has seven individual projects lined up, which she intends developing on a "cluster model" approach, with each one forming part of an overall mining complex and all within a 5km radius of the central treatment plant that will be built. She is waiting for the mining licence to be granted, which will allow development of the first three mines.
She comments: "I am a small-scale miner and that is how I intend developing these mines. The first three have an expected life-of-mine of 15 years but the remaining four could be mined for up to the next 75 years depending on the scale of production that is adopted."
'Nothing can go wrong'
Also attracting investor attention is neighbouring Botswana, where two juniors – Australian-listed Sandfire Resources and US private equity-owned Khoemacau Copper – are both developing mines.
These are located on what is called the Kalahari Copperbelt, which runs in a band from north-east to south-west across northern Botswana, and extends into neighbouring Namibia.
Khoemacau is about to begin production from its so-called "starter" project, with first concentrate due to be produced in mid-2021, after which the mine will build up to annual output of 60,000t of copper and two million oz of silver, with an estimated life-of-mine of 22 years.
Sandfire CEO Karl Simich describes the Kalahari Copper Belt as "one of the world's most exciting emerging copper-producing regions". Plans are to start process plant construction in January 2022, with production to start from mid-2023.
At the risk of being dismissed as old and cynical – and maybe I am guilty as charged after 40 years of covering the Southern African mining industry – I do need to raise a note of caution: all this activity reminds me of the mid-to-late 1980s, when South Africa experienced a junior gold mining boom based on the then soaring gold price, which made many marginal gold projects viable.
The reigning attitude was "nothing can go wrong", which, of course, turned out to be horribly incorrect. Many of those juniors went out of business, at great cost to their shareholders.
So now copper is booming and the prevailing attitude again is one of "nothing can go wrong". But sadly, it can, and there's already an example from the former Mowana mine in Botswana.
Mowana was commissioned by African Copper Plc in 2008 but the company ran into financial difficulties and was taken over by ZCI – the former Zambia Copper Investments – in 2009. ZCI put the mine into liquidation in 2015 because it could not survive at the then depressed level of copper prices.
Mowana was subsequently acquired by mining entrepreneur Kevin van Wouw through his London-listed Cradle Arc company in 2017. At the time, Van Wouw said Mowana was "a stepping stone to build our company into a diversified mining group" but Cradle Arc had to throw in the towel in 2018 and suspend operations at Mowana because they were not reaching planned production rates, so causing a financial shortfall.
Van Wouw is now back in the copper game, but in the DRC and Zambia. His Central Copper Resources (CCR) company in May raised $3m through a "pre-IPO fundraising, which will allow the company to advance operational activities at all assets while completing its IPO on the London market".
According to Van Wouw: "CCR can now start to accelerate its development and exploration operations across its two assets, with the goal of becoming a new, prominent copper mining developer/producer in Africa."
Let's hope it all goes to plan, but investors should always keep in mind the infamous "99 Club" – highlighted by serial mining entrepreneur John Teeling – made up of investors whose shares have dropped in value by 99% and of which Teeling by his own admission is "a multiple member".
For the full story as it appeared in our 2021 Mining Yearbook, please visit the special ebook section below.