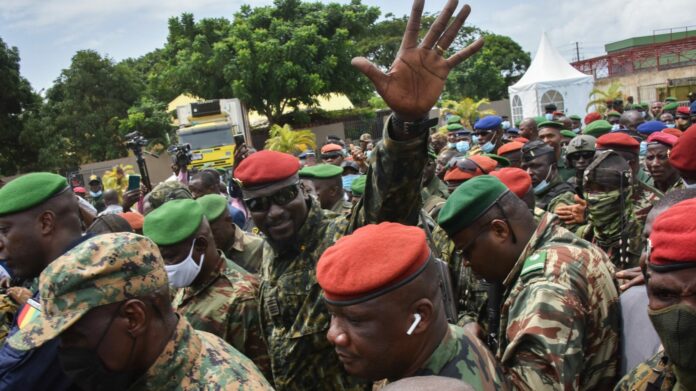 THE price of bauxite recorded its highest price in 18 months following a military coup in Guinea, said Reuters.
Bauxite, used in the manufacture of aluminium, was at $50.50 a ton, up 1% from Friday and the highest since March 16 last year, said the newswire. Prices are up about 16% this year, it added.
This is despite mines in Guinea saying there were unaffected by the political developments. On Sunday armed men led by coup leader Mamady Doumbouya (pictured) said they had ousted Alpha Conde, the country's president.
Conde was controversially re-elected for a third term as Guinea president in 2020 after changing the constitution enabling him to run again.
"It is highly unlikely that the coup will have any major short-term impact on exports, which are always at the lowest part of the cycle in September with stockpiles depleted as the rainy season comes to an end," Guinea bauxite industry specialist Bob Adam told Reuters.
"Any incoming government will want to make sure that it doesn't jeopardise future earnings and investment," he said.
Operating normally
Mining firms told Reuters operational were unaffected.
A spokesperson for Aluminium Corp of China (Chalco), the world's biggest producer of alumina, said its bauxite business in Guinea was operating normally.
Singapore's TOP International Holding, which owns two bauxite mines in Guinea, said operations were continuing "with minimal disruption" and the situation at sites in Boke and Boffa was stable.
A Compagnie des Bauxites de Guinée (CBG) spokesperson said its mines had not been affected by the turmoil.
Doumbouya reassurance
According to a report by Bloomberg News, coup leader Colonel Mamady Doumbouya's military junta said it planned to establish a unity government pending a transition to civilian rule, urged mining companies to keep operating and reassured them that their existing agreements with the state will be honoured.
"A government of national unity will be set up to lead the transition," Doumbouya said in an address to members of the toppled administration on Monday. "The curfew in mining zones has been lifted to ensure continuity of production," and ports remain open for exports, he said. Air links have also been restored.
As for Conde, the 83-year-old leader has so far resisted pressure to resign, according to two people familiar with the matter who asked not to be identified because they aren't authorised to speak to the media.