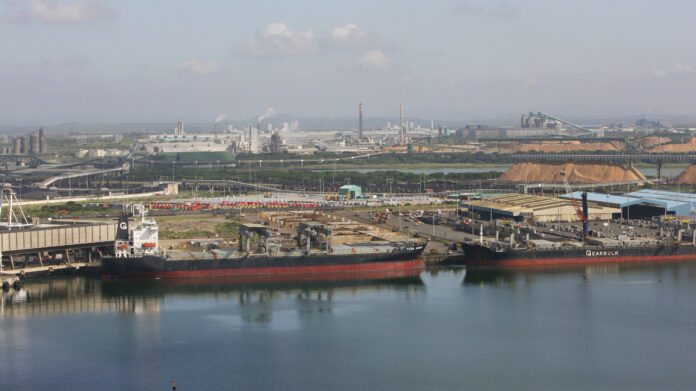 INVENTORY and working capital build was in evidence at South32's South African operations owing to logistical problems at the country's ports operated by state-owned company, Transnet.
The Perth- and Johannesburg-listed miner said in a second quarter and half-year production update today there had been a $100m build in working capital as a result of an increase in inventories, mostly from its South African operations.
"This impact is most acute in our aluminium value chain in southern Africa due to ongoing shipping delays," the firm said in notes to its production numbers published today.
Aluminium sales from South32's Hillside aluminium smelter, located in KwaZulu-Natal, increased 8% in the December quarter, but inventory "remained above target levels as two shipments were delayed to January 2023 due to shipping delays at Richards Bay," South32 said.
Aluminium production from Hillside increased 1% quarter-on-quarter despite "elevated loadshedding". South32 said Hillside was on track for annual aluminium production of 720,000 tons in its 2023 financial year ended June 30.
The group also continued to truck manganese ore from its Northern Cape operations despite road transport being more expensive than rail. The weakness in the rand during the period helped offset the cost, however.
Manganese ore production during the six months totalled just over one million tons, an increase of 4% year-on-year. The operations were on target for full-year production of two million tons "subject to market conditions and our continued use of higher cost trucking," South32 said.
Transnet has come in for stinging criticism following a decline in volumes. In December, the Minerals Council called for the resignations of Portia Derby, the company's CEO and divisional head of Transnet Freight Rail, Sizekela Mzimela.
Transnet says it is under attrack from rampant crime and sabotage while a lack of spare parts amid an extended dispute with a supplier means that it has low availability of locomotives and rolling stock. The Minerals Council and Transnet subsequently agreed to cooperate to resolve the utility's difficulties.
South32 reported a 12% increase in group copper equivalent production in the first half of the year following the purchase of the Sierra Gorda mine last year and an increase in its stake in Mozal Aluminium, its Mozambqiue operations.
"We continue to reshape our portfolio toward metals critical for a low carbon future, advancing construction work, studies and exploration at our high quality development options," said Graham Kerr, CEO of South32 in comments to the production report.