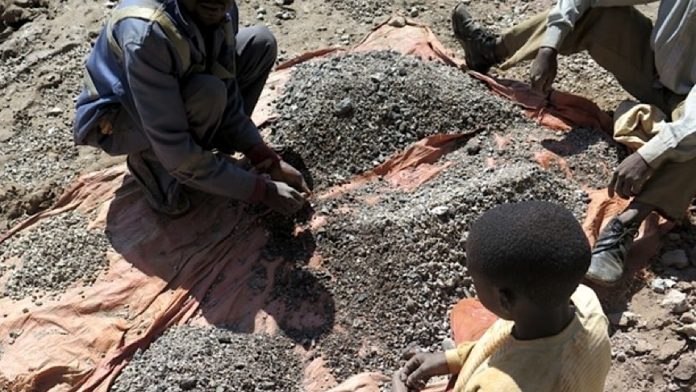 IS the device you are reading this story on tainted by the blood and sweat of Congolese artisans who laboured in appalling conditions to extract the cobalt that powers its batteries?
It's entirely possible that it is, and that poses a dilemma for the mining sector and industries downstream that rely on cobalt to make their gadgets work. From electric vehicles (EVs) to smart phones, cobalt is a crucial metal that is shaping the 21st century global economy.
Cobalt is key to decarbonisation efforts to address climate change linked to fossil fuels as EVs slowly replace internal combustion engines. It is also used in a range of other low-carbon initiatives. As such, the metal plugs into the emerging environmental, social and governance (ESG) zeitgeist.
But instead of being an ESG poster child, the metal is tarnished by well-documented links to artisanal and child labour in the Democratic Republic of Congo (DRC), which accounts for about 70% of world cobalt production. Of this, between 10% and 20% is generally estimated to be at the hands of artisanal miners, or ASMs.
As a result of these concerns, mining companies such as diversified metal producer Sibanye-Stillwater – which has added PGMs and green metals to its original South African gold portfolio – are steering clear of cobalt and the DRC. "With cobalt and the social and environmental negativity around it, we are trying to improve our risk profile and we are not going to go into countries which are high risk. And at the moment the DRC is not a region we would prefer to move into," said Sibanye-Stillwater spokesperson James Wellsted.
The harsh realities of cobalt mining in the Congo are an inconvenience to every stakeholder in the chain – Siddarth Kara
Cobalt in the DRC certainly seems, according to some accounts, to be a journey into a heart of investment darkness rooted in the long exploitation of the country's natural wealth under colonial and subsequent regimes that has done little for its inhabitants. Rather like the "resource curse" on steroids.
"The harsh realities of cobalt mining in the Congo are an inconvenience to every stakeholder in the chain," writes Siddarth Kara, a modern slavery activist and Harvard professor, in his recent book Cobalt Red: How the blood of the Congo powers our lives. "No company wants to concede that the rechargeable batteries used to power smart phones, laptops and electric vehicles contain cobalt mined by peasants and children in hazardous conditions."
Kara's book includes his first-hand reporting on the cobalt scramble, including the testimony of children – some of whom have infants strapped to their back – who he says dig for cobalt for about a $1 a day while exposing themselves to a chilling array of health hazards.
ASM miners can probe with a precision that industrial mining cannot, often resulting in higher grades.
"This is the primary reason that many industrial copper-cobalt mines in the DRC informally allow artisanal mining to take place on their concessions, and it is also why they tend to supplement industrial production by purchasing high-grade artisanal ore from depots," Kara asserts.
It's not just cobalt
The industry maintains it is aware of the issues raised by Kara and others and is working to improve the working conditions and wages for ASMs, who are not simply going to go away. And other industry experts note that such concerns are hardly restricted to cobalt or the DRC.
The World Bank estimates that as many as 20 million people depend on artisanal mining for a living and as much as 20% of newly-mined gold comes from ASM sources, according to the World Gold Council.
In South Africa, this has well-documented links to violent and global organised crime networks, and any new gold chain you might buy could well be as tainted as the cobalt in one of your electronic devices.
"The level of hypocrisy knows no bounds – the fact remains that without ASM workers the world would not have many of today's minerals including sands, clays, stone, salt, fertilizers, vanilla, to name but a few. Of this, the focus has been disproportionately centred around cobalt," Lara Smith, director of mining consultancy Core Consultants, told Miningmx.
Cobalt by contrast is firmly in the crosshairs, perhaps ironically because of its importance to the ESG agenda. And artisanal mining in the DRC and elsewhere is also being driven in part by the climate issues that this agenda seeks to address.
In short, it's complicated, and the stakes are sky high.
"Because of speculation around EVs and the green transition there was a lot of interest in this commodity," David Sturmes, head of partnerships and innovation at the Fair Cobalt Alliance (FCA), told Miningmx in an interview.
The FCA was launched in 2020 with the stated aim of improving the conditions of cobalt miners and to bring child labour to an end. Its members include EV maker Tesla, whose CEO Elon Musk said in 2018 that cobalt was on its way out in its batteries, as well as cobalt producer Glencore and NGOs such as Save the Children.
The level of hypocrisy knows no bounds – the fact remains that without ASM workers the world would not have many of today's minerals including sands, clays, stone, salt, fertilizers, vanilla, to name but a few – Lara Smith.
"Over the last 10 to 20 years ASM activity has intensified and that is owed to increased commodity prices across the board and also climate change. As farming became less lucrative or predictable many farmers diversified into mining, so there is this development that we have more ASM mining in the world," Sturmes said.
This speaks to the fact that many subsistence or small-scale farmers who rely on rain-fed agriculture – which describes most African farmers – have had to adapt or starve in the face of climate change.
"But cobalt has been of political interest and that's why there is a disproportionate amount of attention on the issues around cobalt mining. We should be accepting of artisanal mining because if we think about sustainability, the social value that artisanal mining can bring in terms of creating livelihoods and the prospect for communities to benefit is significant," Sturmes said.
Pointedly, he added that "in a lot of the media coverage on the sector, cobalt it is singled out as if it was the only commodity where artisanal mining occurs".
Is change in the air?
That does not mean that the issues Kara and other activists have drawn attention to are hot air. Where there's smoke there's fire, and there are many embers blazing in the cobalt supply chain.
The FCA is one of several initiatives on the cobalt front. BMW, BASF and Samsung in 2019 launched Cobalt for Development (C4D), which aims to promote ethical practices in the extraction of cobalt and its supply chain.
And both FCA and C4D to their credit seem transparent about the ASM challenges in the cobalt production and supply pipelines, which is not always the portrait painted by the industry's more withering critics.
"While this labour-intensive form of cobalt mining is a primary source of income for the region, the working conditions are oftentimes extremely precarious, with little to no safety or environmental precautions in place," C4D says on its website.
That does not seem like an attempt to gloss over the matter. And the FCA is also not sweeping such issues under the rug.
"ASM provides a livelihood for thousands in a country where many people have no job at all, yet it is associated with highly hazardous working conditions, systemic child labour, and unfair trading practices taking advantage of local workers selling to traders on the open market," it says on its website.
So, what is being done?
That's a multibillion-dollar question as the sectors that require cobalt rush to find alternatives (see sidebar story) to a metal that provides an income to tens of thousands of former peasants whose communities have long suffered under rapacious Belgian and kleptocratic African rule.
"We need a systemic response," the FCA's Sturmes said. "We need to provide expertise and formalise ASM, giving it a legal right to exist. But most importantly, channelling investment into better infrastructure."
The tunnels used in the ASM sector are dangerous and one of the aims is to make such mines open-pit operations.
In its 2022 annual report, the FCA highlights a number of initiatives including rental facilities that provided personal protective equipment to almost 300 washers, the vast majority of whom are women. Fourteen savings groups have been formed, comprising 350 miners, and solar power was provided to seven schools in ASM cobalt communities, benefiting almost 5,800 pupils.
To bring transparency to the trade and ensure miners are fairly compensated for their efforts, the FCA says a trading centre is being established in Lualaba province "to control the trade of artisanally produced minerals, offering a regulated trading hub that brings sellers and traders together … a significant strategic step in the government's plan to ensure artisanal and small-scale mining meets international standards and is accepted in the formal cobalt supply chain".
This is clearly crucial. Critics such as Kara contend that tainted cobalt is laundered into the supply chain through trading networks. "From pit, to pool, to sack of stones – the family had subdivided the steps involved in getting cobalt out of the ground and packed for transport by negociants (traders). The negociants then sold the cobalt into the formal supply chain via nondescript depots along the highway. Laundering minerals from child to battery was that simple," he writes.
Companies such as Glencore, a major producer of cobalt, flatly deny that ASM metal is in its supply chain: "Glencore does not purchase, process or trade cobalt from artisanal and small-scale mining (ASM). We do not tolerate any form of child, forced, or compulsory labour in our supply chain," it says.
Glencore's track record in the DRC includes a $180m settlement with the government that was reached late last year to settle bribery claims, making it an easy target for activists who cast doubt on its claims.
No company wants to concede that the rechargeable batteries used to power smartphones, laptops and electric vehicles contain cobalt, mined by peasants and children in hazardous conditions – Siddarth Kara
Still, the FCA – whose members as noted above include Glencore – admits that many of the conditions in the ASM cobalt sector are wanting.
The FCA also disputes the allegations of Kara and others that many of the artisanal cobalt miners only make around $1 a day.
"It is our understanding that individuals are earning at least a few hundred dollars a month, which is above the average income in the region," Sturmes said. "I was in Congo in March and I met a woman who as a teacher was earning $100 a month but she quit her job teaching and is now washing cobalt, and now makes between $200 and $300 a month."
Cobalt as of mid-June was down over 40% in the year to date to below $30,000 a ton. This is likely to mean there are fewer artisanal miners digging for the metal – their numbers ebb and flow with the price.
Will the ASM cobalt sector in DRC eventually reach a point where the metal it produces is regarded as fair and untainted? It is certainly being subjected to a level of scrutiny that is not being applied to other ASM minerals. Activists like Kara and industry groups like the FCA may not see eye to eye, but at least there are eyes on the ground.
This article first appeared in The Mining Yearbook