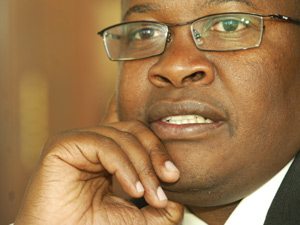 [miningmx.com] – AN investigation into the collapse of a coal silo at Eskom's 3,200MW Majuba power station in 2014 found there was no negligence on the part of the engineers or construction company, the power utility said.
Matshela Koko, group executive for generation at Eskom, said the silo design did not suit the coal that had been supplied. "We concluded an investigation at Majuba. It was a design that was not correct," he said.
A tender to install a new silo at the station would be awarded at the beginning of December, said Eskom CEO, Brian Molefe. The tender included the reinstatement of the damaged silo and the associated coal conveyor system, he said.
Two other coal silos would also be strengthened. Construction of the silo was expected to be completed by December 2017.
Majuba Power Station experienced a coal storage silo collapse on November 1 in 2014 that, at the time, placed further pressure on Eskom's faltering electricity supply. Coal was subsequently fed through an elevated mobile boom feeder.
The use of trucks to transport coal has been curtailed from an average of 1,060 trucks
before the implementation of the interim solution to an average of 90 trucks.
"Majuba is now operating at full capacity," said Molefe in a telephonic interview with Miningmx. "It is getting coal by rail," he added. Eskom has had just over two hours of load-shedding in the past 99 days.
Molefe was commenting following the summer status quarterly update of Eskom's state of the system in which it said that unplanned outages had fallen below its target level of 7,000MW owing to its Tetrus power station maintenance programme.
Eskom also provided an update of its capital expansion programme in which it said the commercial operation of its 1,300MW Ingula pumped storage scheme would come on stream earlier than planned.
"Ingula will come in way ahead of the timelines you see," said Koko. According to Eskom's quarterly presentation, the first 333MW from Ingula is expected to come into commerical operation in January 2017 with another 333MW scheduled for March. The entire project would be commissioned by July 2017.
"There is no delay at Ingula or Kusile Unit 1 or Medupi unti 5," said Koke. "We will make or exceed all timelines that you see, he said. The timelines set by down Eskom have a estimated probability of success of 80%, said Molefe.
Molefe, who was confirmed the permanent CEO of Eskom on September 27, said the utility's financial liquidity was also looking much improved. There was the likelihood that Eskom would proceed with an international bond.
"We went to the UK and had a cup of tea. Investors said they would be receptive to an international bond, but no decision has been made yet," said Molefe.