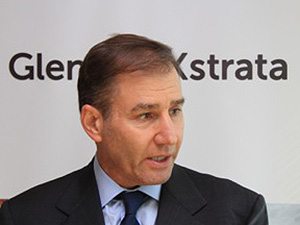 [miningmx.com] – THE most important mining executive in Cape Town at last week's annual Mining Indaba was not on the conference programme – nor was he to be seen in the Cape Town International Convention Centre.
Ivan Glasenberg, CEO of GlencoreXstrata, spent the Indaba at functions organised to wine and dine new friends in venues around Granger Bay and Sea Point.
While established mining multinationals were asking themselves if they should stay in South Africa or go, "Glenstrata' was clearly preparing for a bargain basement shopping spree.
It is no secret that some major investors are looking for a way out of their investments in South Africa – and elsewhere in Africa.
BHP Billiton has never said so out loud, but it has been quietly trying to extract itself from its investments in South Africa and on the rest of the continent for some time now. The mining giant is desperately seeking a buyer for its Khutala mine near Middelburg, one of the largest coal operations in the country.
The mine can produce 8 million tons of export quality coal a year, half of which goes to Eskom.
BHP Billiton is also trying to unload its unused coal reserves in the Waterberg region, where the future of South Africa's sizable coal industry lies.
Everyone who knows anything about coal is looking for a foot in the door, yet BHP Billiton cannot find any buyers.
The reason no one is biting at either of these choice assets is that both Eskom and the government insist that any buyer should be 51% owned by historically disadvantaged South Africans.
There aren't many of those around that are big enough to take on these assets – and the ones that do exist are busy with other projects.
Rio Tinto, another of the world's mining behemoths, is less secretive about its desire to sell the coal mines it has been building in Mozambique's Tete province.
Rio is abandoning these valuable mines because the Mozambican government cannot install the required rail capacity to the coast quickly enough.
It too will struggle to find a buyer.
This week it was confirmed that a smaller player in the local coal sector, Total Coal, has appointed Deutsche Bank to broker the sale of its assets.
Glenstrata has, in sharp contrast to its mining peers, been telling everyone who is willing to listen that it is seeking a firm foothold in the country, and that was the message with its secondary listing on the JSE in November.
At the Indaba, Glenstrata's top managers avoided the official functions and spent their time with fund managers and bankers.
The guests at its own functions came almost exclusively from the financial sector. There were no legal advisors, auditors or mining professionals at these parties.
Members of the Glenstrata team who spoke to Rapport were noticeably more upbeat than their peers at other mining companies.
When Glencore merged with Xstrata, it inherited the world's largest ferrochrome smelters, which are based in South Africa.
"Yes, power is expensive, but its not more expensive than in China,' says one Glenstrata executive. "The problem is that the Chinese have a different approach. For them, it's not necessarily about profit, but about the jobs. They want people to build smelters there to create jobs, then they buy the chrome from you.'
Mick Davis, Xstrata's previous CEO, had planned to build a private power station in South Africa to ensure power supply to his smelters.
The Glencore team immediately squashed this plan when they took over the company.
"It's unnecessary,' says the executive.
"Medupi and Kusile [both of which are being built by Eskom] will start delivering power soon. We've visited the station, it is going to happen.'
"To tell the truth, within two years, South Africa will be sitting with a surplus of electricity again.'
This article first appeared in Rapport, an Afrikaans medium newspaper.