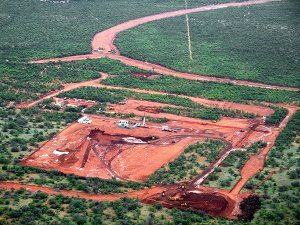 [miningmx.com] – COAL of Africa (CoAL) was re-negotiating the terms of a sale agreement with Rio Tinto for some R323m ($30m) in outstanding payments related to the sale of the Chapudi coking coal project in South Africa's Limpopo province.
CoAL bought the asset in 2010 for $74m, but the deal was not consummated until 2012. Since then, CoAL has become a coal development company, temporarily shutting its Vele coking coal mine, a coking and thermal coal project ahead of a R460m re-model.
Financing for Vele with South African banks should be complete in the current quarter, said David Brown, CEO of CoAL who added that an offtake agreement with ArcelorMittal South Africa was also being negotiated. Quality and quantity had agreed with talks now focusing on price, he said.
He added that negotiations with Rio Tinto over Chapudi had been "fruitful and transparent" as he sought to conclude the "… timing and magnitude [of the repayment] and hopefully match it with cash flow".
As a result, the most important element of CoAL's immediate future is the balance sheet. Cash burn had been reduced to about $5m (R54m) a quarter, but there was currently only R43m in cash holdings, excluding R80m from sale of Woestalleen, a thermal coal asset.
The sale of Woestalleen is part of CoAL's parallel process to dispose of its mature thermal coal mines in the Mpumalanga province. CoAL's Mooiplaats mine is another non-core asset, but it has not been sold as yet.
"We are right in the middle of discussions with Rio Tinto," said Brown. "They are aware of the position of the company and therefore whatever solution [is found] will take account of these aspects. Talks have been held in a good, cooperative spirit," he said.
Brown was responding to questions following CoAL's interim results presentation in which the company reported a $46.3m (R498m) interim loss (2012: – $111.7m or – R1.2bn) of which $30m (R323m) were exceptional items relating to a $16m (R172m) impairment on Mooiplaats, and net foreign exchange losses.
In addition to financing the re-building of Vele and renegotiating Chapudi, CoAL is hoping to attract a 23% strategic investor in its R4.8bn Makhado coking coal project, described by Brown as "the jewel" and "company-maker".
The company had had "preliminary discussions" with strategic partners which might also sign an offtake agreement. A further 26% of the project would be sold to an empowerment partner in terms of South Africa's mining legislation which would go some way to financing the project, Brown said.
"The company has significant latent value in its Vele and Makhado coal projects, with financing being the key hurdle for the company to overcome in the near term," said Investec Securities in a morning note. "The commentary in today's report clearly shows that this is work in progress," it added.
Investec loaned CoAL some R210m ($19m) in short-term debt facilities of which about R107m ($9.7m) had been drawn down.
Shares in CoAL have been under considerable pressure this year. They were down 8% today to about R87/share and well off the R125/share achieved in February. On a 12-month return basis, shares in CoAL are 61.5% lower.
Brown, who was confirmed as CEO of CoAL on February 1, said CoAL's ambition was to become a 7 million tonne/year producer of thermal and coking coal.